Our Favorite Loafers: The Slip-On Shoe to up Your Sartorial Prowess
The Loafer is a staple in any man's wardrobe. Worn with dress socks and a sharp suit, they're a go-to for Monday Morning meetings. Worn with khakis and a polo, they're your basic country club vibe. However, loafers have also become a standard piece of footwear for hipsters in recent years, and these casual-meets-formal dress shoes can be seen everywhere these days.
The most common type seen here, the penny loafers, actually took that name from the little saddle slit in front. Once upon a time, prep school students would keep a penny there for payphone calls home. Today, that's no longer necessary, but the name stuck. Regardless of the particular style, the best loafers still look great while kicking your feet up to make a call on the latest iPhone.
1. Carmina Shoemaker Penny Loafer
BEST OVERALL
Carmina makes beautiful shoes that have gained a lot of popularity in the past five years or so. They're made on the Spanish island of Mallorca, where they have been made for generations by the Albaladejo family. What is most wonderful about Carminas is that even though they're Goodyear welted and made with super high-quality leather, they still manage to be comfortable right out of the box. This pair in a medium brown is a can't miss to wear with suits, jeans, and chinos, you name it.
2. Suit Supply Suede Tassel Loafer
BEST FOR ITALIAN GENTLEMAN STYLE
Add a little "sprezzatura" to your wardrobe with these polo brown suede tassel loafers from Suit Supply. Reasonably priced and well made, the vibe of these shoes goes quite well with Caprese salads and open collars. Try them with rolled cuff white jeans, a blue oxford cloth button-down and a navy jacket while zipping around town on your Vespa. Buongiorno!
3. Johnston & Murphy Alcott Penny Loafers
BEST DAY TO DAY
This classic penny loafer from Johnston & Murphy comes with a sleek leather upper and round toe. This slip-on shoe is just as easily worn at the office as it is on a first date. Because this loafer is lacking the tassels and detailing common to other loafers, it has less of that country club vibe that turns some guys off. The simple design (and $100 price tag), makes this an ideal budget pick.
4. Saks Flex Leather Penny Loafers
BEST BUDGET OPTION
Occasionally, you want good looking shoes without worrying about the cost of replacement should things go awry. Groomsman at a beach wedding? Here's your perfect summer beach loafer! Crafted in an unlined variation of "flex" leather, this will be extraordinarily comfortable right out of the box. They come in a very versatile medium brown/tan and will look great with all your linen suits while you walk that cute bridesmaid down the aisle.
5. Gucci Brixton Loafer
LUXURY OPTION
The Gucci Bit loafer is an iconic piece of footwear and has seen a resurgence in popularity recently. This particular iteration is crafted to allow for the wearer to wear them in the standard way or to fold the heel down and create a slip-on style for comfort and ease of wear. These are a great investment because, with care, they'll last for a decade or more.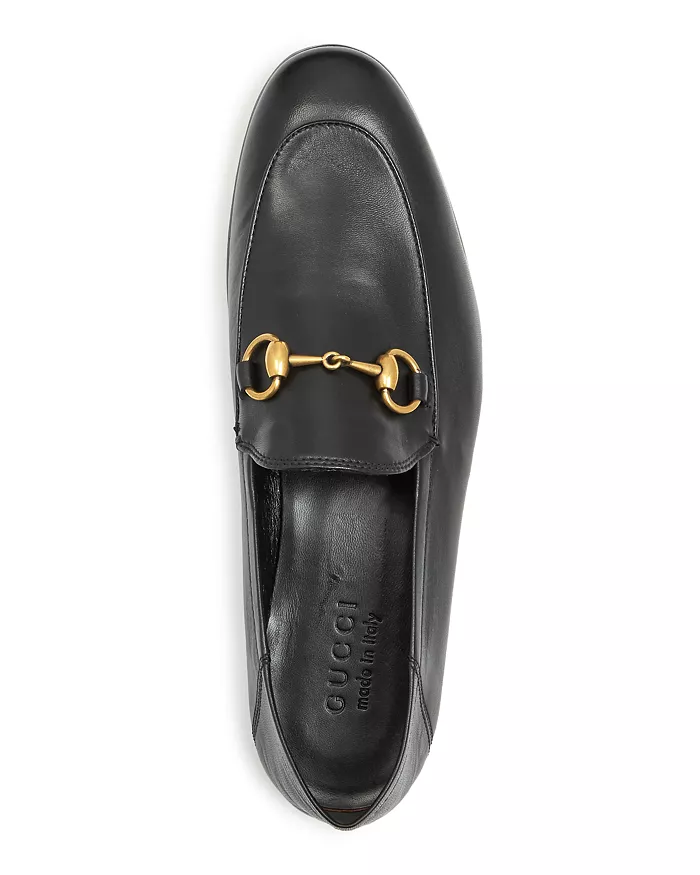 6. Bonobos Oxley Suede Loafer
BEST SUBTLE POP OF COLOR
Blue Suede shoes have had their place in the cannon of menswear for a very long time. They're a great way to step away from the usual blacks or browns without going too crazy, and as most navy items in your closet, they go with a lot of different variations. This pair from Bonobos is a reasonably priced option to allow you to dip your toe into some more colorful loafer varietals. Wear these with stone-colored chinos, a grey polo, some tortoiseshell sunglasses, and a mojito.
7. GH Bass Layton 90's Kiltie Weejun
BEST RETRO STYLING
The Bass Weejun is basically the first-ever loafer created. They had a bit of a heyday in the '90's, and this is perfect iteration of a retro style that has had a resurgence today. If you're really laying on the nostalgia, this cool guy shoe is not for the faint of heart and should be worn with equally cool accouterments, including something like acid wash jeans or oversized outerwear. They should be worn a bit tongue in cheek, not as an actual dress shoe, and at this price, they're cool to play around with without too much investment.
8. Saks Fifth Avenue Velvet Venetian Loafers
BEST FOR WEAR WITH TUXEDOS
A velvet loafer is a cool, Bond Villain styling that looks great with the trim cut tuxedos of today. Their subtle texture and sheen ads a little visual excitement and differentiate themselves from most standard shoes. What is great about the velvet loafer is they also can sort of be used as a slipper, and have been seen on the feet of many a stylish gentleman wearing them with skinny black jeans and a leather jacket, or with a trim charcoal suit and a crisp t-shirt. Pick up a pair at this reasonable price and see just how versatile you can make them.