Stay Organized and Keep Your Bag Free From Spills With These 8 Dopp Kits
Dopp kits are a great way to keep your toiletries contained and tucked away from the rest of your travel bag. Grab them and go, and stay organized with all the necessary creams, hair gels, bandaids, condoms, whatever else you may need. And make sure if your cologne pops open in the middle of a flight, the rest of your bag isn't ruined.
Keeping fully stocked dopp kits in various bags and places is a SPY life hack we pride ourselves on. That leather weekender duffel bag you use for 70% of your trips? There should always be a fully stocked dopp kit in there, with its own toothbrush, contact solution, deodorant, etc, exclusive of the ones you use for your day to day. There should be another one in your gym bag, in case you get a mid-workout text that there's some party to go to, leaving you without time to dash home to get ready otherwise. End up staying at someone else's place on a Tuesday night, and need to spruce yourself up at the office? Keep a fully stocked dopp kit at your desk so you can look your best!
But while it's good to keep these different kits around, each one doesn't need to be exactly the same. A smaller neoprene pouch can stay in your work or gym bag with just basics like deodorant and a toothbrush, while a substantially sized canvas one can be you go-to for big destination wedding trips, when you need cologne, moisturizer and hair products. The nylon work horse one can live in your weekender bag, when you need a full setup but not the entire medicine cabinet. Try out a few of the options below!
1. Herschel Supply Co. Chapter Dopp Kit
BEST OVERALL
As mentioned above, it's necessary to keep a dopp Kit in a few places in your life. It's also something that can end up ruined if you're a little too careless putting the cap back on your sunscreen as you're rushing to the airport. So while you should buy a quality one, going too luxurious if you're not always careful could be a mistake. In comes the Herschel Chapter dopp kit, which comes in dozens of colors for all your travel and preparedness needs. They're sufficiently roomy, come in hard-wearing nylon, and at $30 or so per (depending on the color) it's easy to pick up a couple of them and ever stress about damaging them.
2. Filson Travel Kit
MOST INDESTRUCTIBLE
Filson's duffel bags are legendary for their hard-wearing canvas which can last for a decade with ease. Started as a company for hunting gear, a section of their business which they still run, the waxed canvas construction of this dopp kit and many of their other luggage products is intended to last under harsh outdoor conditions, so it will be more than enough for 10 weekend trips a year. We like their classic tan colorway as it's not too loud or stuffy and can handle any spills or breaks.
3. The Dopp Kit from Away
BEST FOR TRAVEL
Away has created a great following with well-priced and conveniently built carry-on luggage, and their accessories to go along with them are equally well made. Fully waterproof on the inside, there is nothing that could burst in there and get to your clothes. The chic, simple construction and colors go quite well with their charging case equipped carry ons as well.
4. Want Les Essentiels Kenyatta Dopp Kit
BEST REMOVABLE LINING OPTION
Want Les Essentiels sounds like a password to get into a party you're not even supposed to know about, and their products have a cool chic minimalist air to them as well. Crafted in pristine crisp cotton, this lighter denim-looking blue is a great option. There are other colorways as well, all of which come with a removable nylon liner which is the best part of this choice. Little extra toothpaste get on the inside? Take out that liner and rinse it right off before your next trip!
5. Tumi Raymond Travel Kit
BEST LUXE
Tumi is known for classic, professional, well-made luggage and this dopp kit fits in with that ethos. Crafted in a nice chic grey, this option comes with their bulletproof warranty and would look great with their luggage! This dopp kit is also Insulated and waterproof lined to save your stuff from any sudden spills.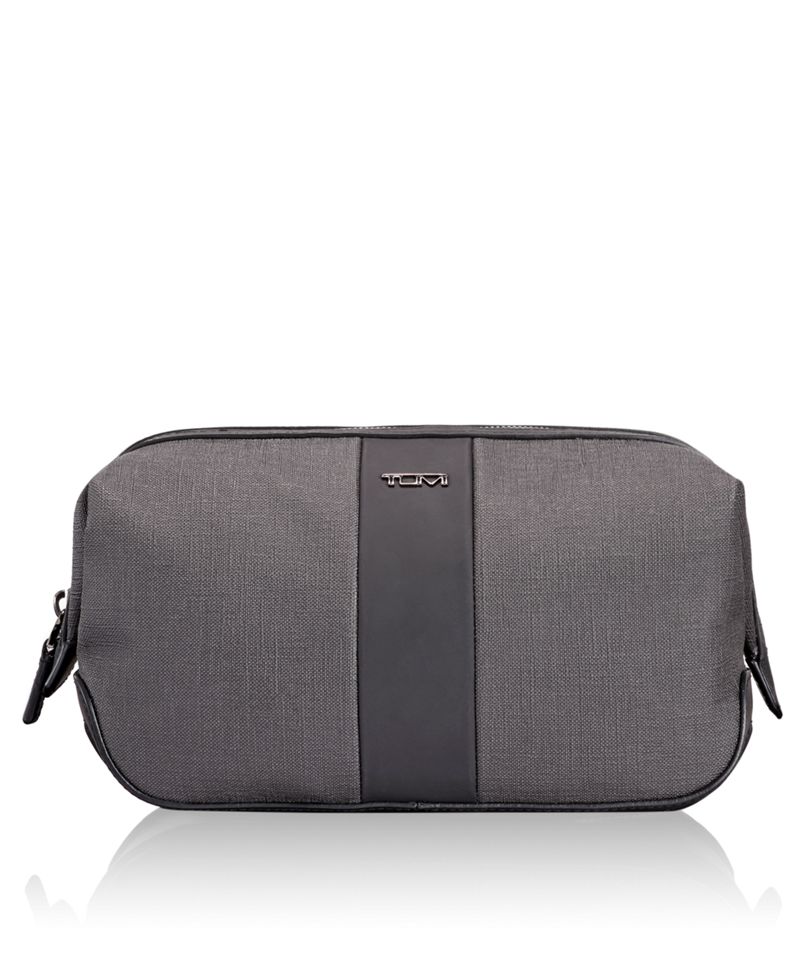 6. Longchamp Boxford Toiletry Bagt
BEST FOR MATCHING THE WHOLE LINE
This simple earthy colored option from Longchamp is reasonably priced, and the best part is that there's an entire line of reasonably priced luggage to go along with it! Pick up the backpack, garment bag, and duffel to go along with your dopp kit and you'll be all set to go anywhere in style! The earthy green/grey and tan goes well with any number of different luggages as well, so you can purchase with confidence. The bag itself lends itself to excellent organization with the dual-zippered pockets and interior delineation, providing easy access to everything you need.
7. Lululemon Out on Top Dopp Kit
BEST FOR THE GYM
This smart black Lululemon dopp kit is perfect to throw in your gym bag. Lululemon makes high quality clothing for your most intense workouts, so what better option than them to store your post-workout grooming routine. Basic, on the smaller sized, and durable, it's perfect to throw in next to the sneakers and sweat drenched hoodie.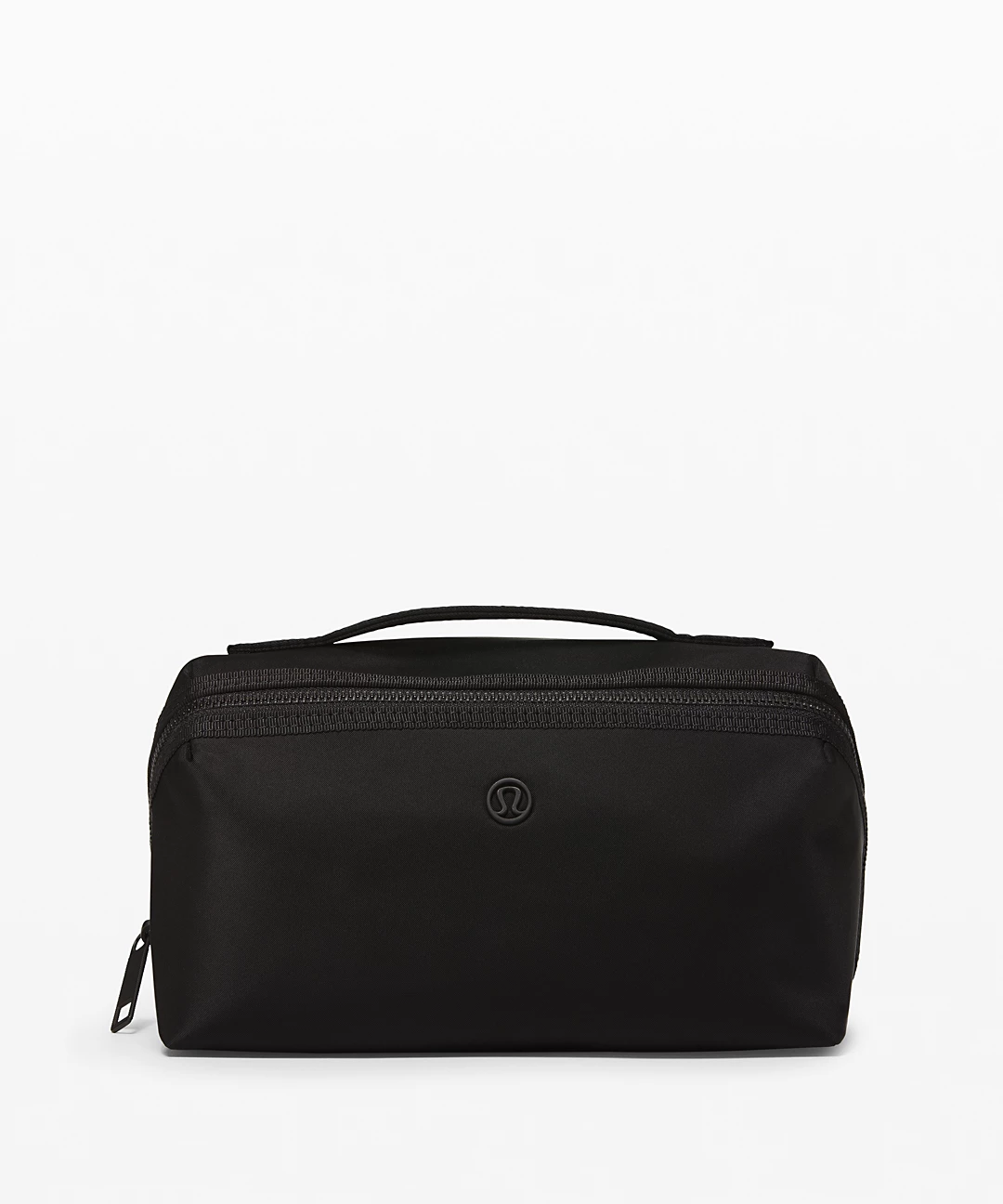 8. Dagne Dover Hunter Dopp Kit
BEST TO NEVER LOSE IN YOUR LUGGAGE
Dagne Dover's Hunter Toiletry kit is made out of neoprene, the material also used for wetsuits and in some outdoorsy gear, which makes its spongy texture perfect for a bag such as this one. Basic and with no frills, but sufficiently roomy inside, pick it up in Red and you'll never lose your kit inside your bag again! Plus, the neoprene is handy when something (inevitably) spills.