Ranking the Best Adidas Sneakers for Men in 2020 (That Aren't Yeezys)
Adidas is an incredible brand that was around long before the invention of the modern sneaker. They were founded nearly 100 years ago by Adolf "Adi" Dassler, hence the "Adidas" moniker. Their classic sneakers have had incredible staying power thanks to their stylish designs, comfortable fit and high quality construction. The best Adidas sneakers are equally suited for pickup basketball games and more formal work outfits, and the brand's iconic three-stripe design is instantly recognizable wherever you go. Now, some of the company's new creations are bringing the brand into the future.
Adidas is the home of the most important sneaker of the past decade, Kanye West's signature "Yeezy" line of shoes (we especially like the Yeezy Boost 350 Version 2, if you can find them). While they do tend to sell out shortly after being dropped, there is an active resale market with many options under $300, not much more than the $220 retail price. As Yeezy's are currently sold out, you'll have to do some searching on resale websites to find the pair you're looking for. Fortunately, Adidas has plenty of other men's sneakers worth adding to your wardrobe this fall.
Take a look at the best Adidas shoes below and keep yourself looking classic below the ankles.
1. Adidas Top Ten Hi
BEST HIGH TOP SNEAKERS
One of the OG basketball sneakers, the Top Ten Hi is now a handsome, classic high top which has also made its rounds in the skateboarding community. Simple, vintage styling makes this a great option to dress up a bit. It's the perfect high top sneaker to wear to a casual date, perhaps with light wash jeans, a t-shirt, and an unlined blazer. There are a variety of colors available, but we prefer the red, white and blue coloring seen below.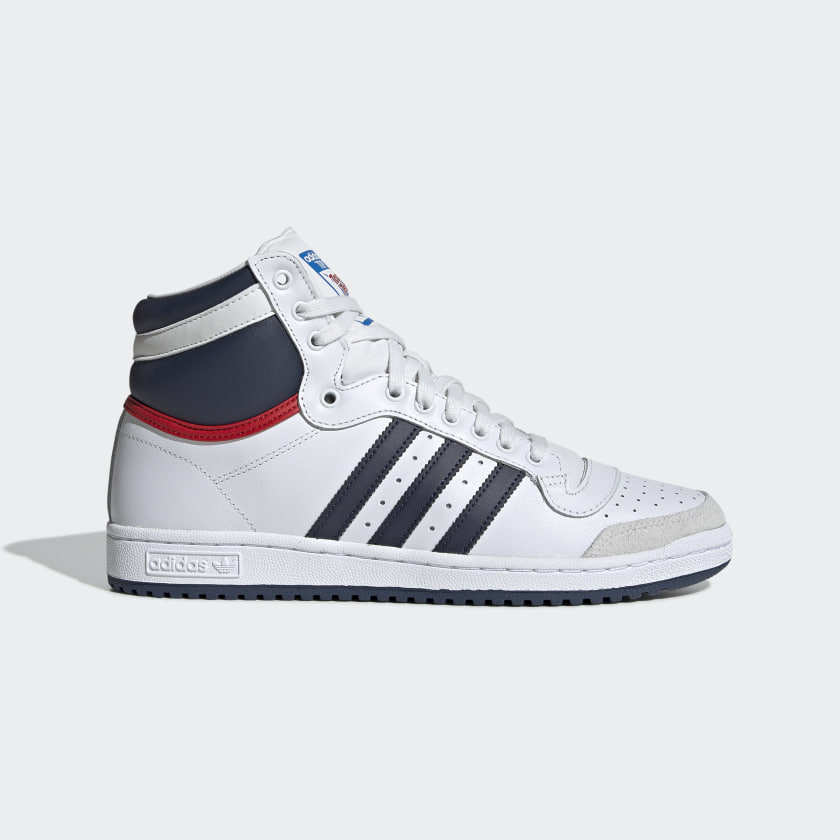 2. Adidas D.O.N. Issue #2 Spidey Sense Shoes
BEST CAUSE
It's such a shame when people can't understand the intensity of your feet heat because it's too dark outside. But, that'll never be an issue with the D.O.N. Issue #2 Spidey Sense shoes from Adidas for one solid reason: they glow in the dark. You might think that glow in the dark shoes are a bit juvenile, but boy are you wrong — they look absolutely dope shining in the night. They're also super handsome to wear in the day and can be dressed up or down depending on what you pair them with. The best part about these shoes? Ballplayer Donovan Mitchell will be donating $45,000 in proceeds from sales of this sneak to a college scholarship fund for the children of Jacob Blake. In turn, Adidas will also be matching that donation, so in total $90,000 will be given to Jacob Blake's children in order to further their education after their father's ruthless murder by police. Rest In Power Jacob Blake.
Courtesy of Adidas
3. Adidas Ultraboost 20
BEST ADIDAS ATHLEISURE
We were big fans of the Adidas Ultraboost 19 sneakers, which we called a perfect "athleisure" shoe. For all the same reasons, we also love the new Adidas Ultraboost 20 line of sneakers. Since their release, the new Ultraboost sneakers have racked up hundreds of 5-star reviews on Amazon and Adidas' website. While these running shoes come in a variety of colorways, you can't go wrong with the all-black colorway pictured below. These athleisure sneakers can be dressed up or down depending on what you wear them with. Just as at home at the gym, running errands or getting a bit of shopping done, you can style these shoes with chinos and a jean jacket, or with workout pants and a hoodie. Check out the many interesting colorways and pick one that works best for you!
Courtesy of adidas
4. Adidas NMD_R1
BEST STYLE
Adidas' NMD_R1 is a nearly perfect sneaker. These are stylish white sneakers you can really build an outfit around. They're comfortable due to the boost sole, have a sock-like slip-on construction, and have just enough of a nod to the classic while highlighting the new, modern styles of 2020. We like the classic white with the gum rubber sole, but these sneakers are also available in black, scarlet and a black & white combo.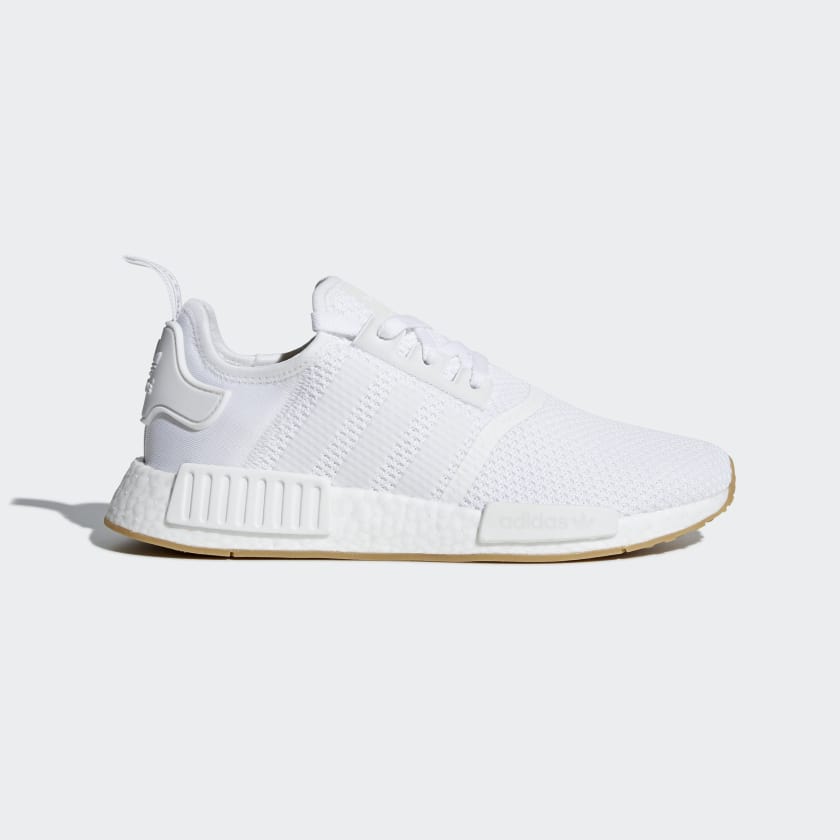 5. Adidas Stan Smith
BEST CLASSIC ADIDAS SNEAKERS
Occasionally, a shoe comes along that is basically perfect right from the get-go. Enter: the Adidas Stan Smith. This sneaker (named for the professional tennis player) has been around for decades and has maintained its status as a perennially perfect shoe nearly that entire time. It's a great-looking, simple sneaker for casual outfits, and it's also sufficiently clean and stylish to wear with a suit if you are so inclined. Dress it up, dress it down, wear it with whatever you want. We like the classic green, but try the many different variations until you find your favorite. For its simple and classic design, these are some of the best Adidas sneakers year after year.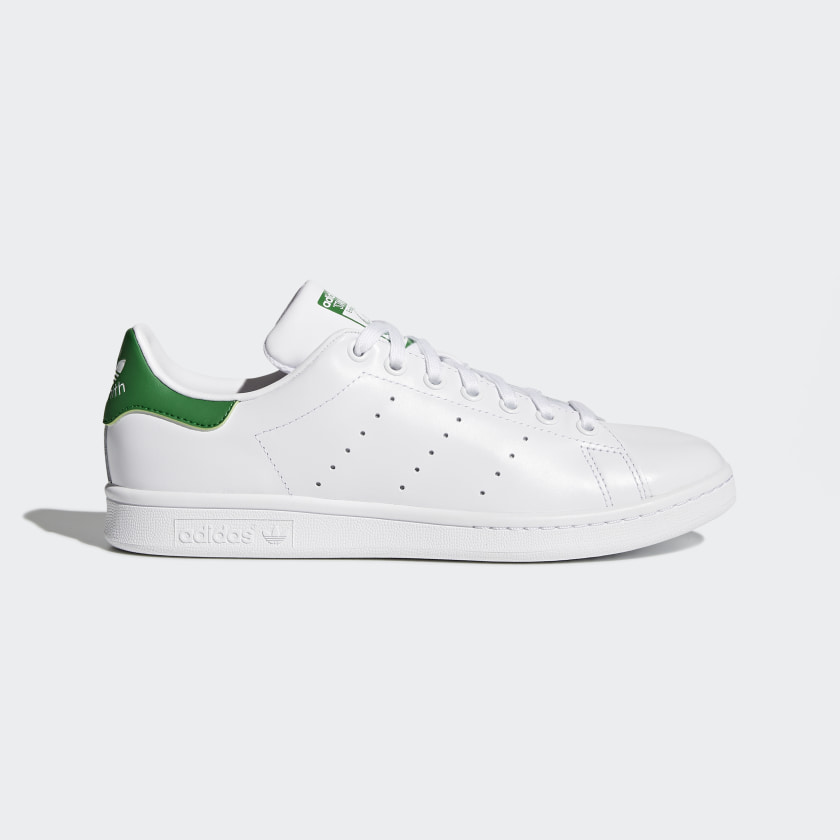 6. Adidas 4D Run 1.0 Shoes
MOST GLAM
Who says dudes can't rock some glamorous kicks in their day to day? Certainly not Adidas. This metallic coloration is the newest take on Adidas' 4D Run 1.0 shoes. The shiny overtake really adds to the already futuristic design, giving us a look we're surprised to be seeing in 2020. The wildly unique lattice midsole is crafted from liquid resin to give all the cushioning you want when strutting the streets in style or running for miles on end. Feel free to pair these sneaks with just about anything from ripped, cuffed jeans and a crewneck sweatshirt to joggers and a breathable running tee.
Courtesy of Adidas
7. Adidas Nite Jogger
BEST STYLISH WALKING SHOE
The Nite Jogger, with new looks and colorways for 2020, is a great example of bridging new and classic shoes. The construction and boost sole is as new wave as it comes, but the style of the upper would be at home in an 80s workout video. These should exclusively be used as stylish walking shoes, as they're a little loose fitting and the upper is, while comfortable and well put together, not very stiff and prone to moving around as you move. This adds to the comfort, but wouldn't make for a great workout shoe. That being said, if you're looking for stylish sneakers for everyday wear that come in a slew of different colors, these are some of the best Adidas sneakers for men available this fall. But, you better act fast: some colors are going obsolete and are currently being offered at half the original price in certain sizes, so snag your favorite now.
Courtesy of Adidas
8. Adidas OAMC Type 0-5 Shoes
BEST HIGH FASHION OPTION
The best Adidas shoes for men run the gamut from modern high-tops to retro throwbacks. However, no list of the best Adidas shoes would be complete without a high fashion option capable to walk both the city streets and the runway. OAMC never compromises on style by bringing an almost dystopian, utilitarian design to each of their shoes, and their collab with Adidas on these bad boys are no different. Subtle coloring is shown throughout the full sneak yet stays entirely off-white in its approach. They're a handsome city shoe to rock no matter the season or outfit, that's for damn sure.
Courtesy of Adidas
9. Adidas Japan Shoes
BEST TRAINING SHOE
Turn heads the way you would have at the '64 Olympics with these Japan shoes made for style and athletic purposes. These sneaks are buttery soft because they're made from one of the most interesting leathers on the market, kangaroo leather. Although that might be controversial to some, these sneaks might be handsome enough to look past that depending on your preferences. They almost mimic bowling shoes but in a cool way, and the red on white coloration with a smidge of green on the shoe's logo really brings it back in time with its vintage feel. Work your in these with confidence, you've already snagged the gold medal by throwing these on today.
Courtesy of Adidas
10. Adidas Adissage Slides
BEST SLIDES
These really are the shoe that put slide sandals on the map. The little nubbles on the sole of the shoe are a heavenly massage whenever you walk on them, and they also provide airflow when you're using them on your way to and from the shower or pool. They're also really the only possible option that kind of works for socks and sandals (kind of). At this price, you can't go wrong with picking up a pair of classic slides. In fact, because these men's shoes only cost $21, we would recommend buying two pairs — one for the gym or pool and one for home.
11. Adidas Ozweego
BEST WILD AND CRAZY
What's great about 2020 fashion (and beyond) is that with the right confidence, you can wear basically anything you want. The thick, chunky and, frankly, ugly sneaker trend is really having a moment, and these Adidas Ozweegos fit that mold perfectly. Say you wanted to dip your toe into the chunky sneaker trend but don't feel like dropping $800 on a pair of Balenciaga Triple S shoes? The Ozweego is a great way to see how you feel about this style. Try these with joggers, a designer hoodie, and lots of swagger.
Courtesy of Adidas