The Most Stylish Men's Camel Coats of the Season — from Formal to Casual
The Camel Coat has become a must-have item for men this season, and the tan color matches nearly any outfit. Camel hair is warm and light, and the best camel coats keep you warm and cozy without the bulk that comes from a puffer jacket or men's parka.
These jackets create a classic silhouette for the winter, and the warm tan color looks great with blue suits, grey suits, and other types of formal wear. However, the camel coat doesn't have to be matched with formal attire. This popular coat also works perfectly with denim for a more laid-back vibe. And in today's athleisure world, the camel overcoat still looks great over a hoodie, your favorite joggers, and some crisp white sneakers.
While many of the best camel coats have a similar look, there are different cuts and styles to consider. Be sure to take a look at all of the options below.
Theory Melton Wool Topcoat
BEST OVERALL
Melton Wool is a thick, hard-wearing fabric that's very dense and therefore very effective against wind. This option from Theory is crafted in a simple, no-frill classic cut without any extra adornment. Theory has chosen to go with a closed placket, with the buttons slightly right of center, which allows for the coat to be closed with a little overlap. This cut creates a cleaner look ( and it hides the buttons when closed) that will keep you even warmer. It's on the pricier end of this list, but this variation is so classic that it's well worth the investment. Wear this one with your best flannel suit!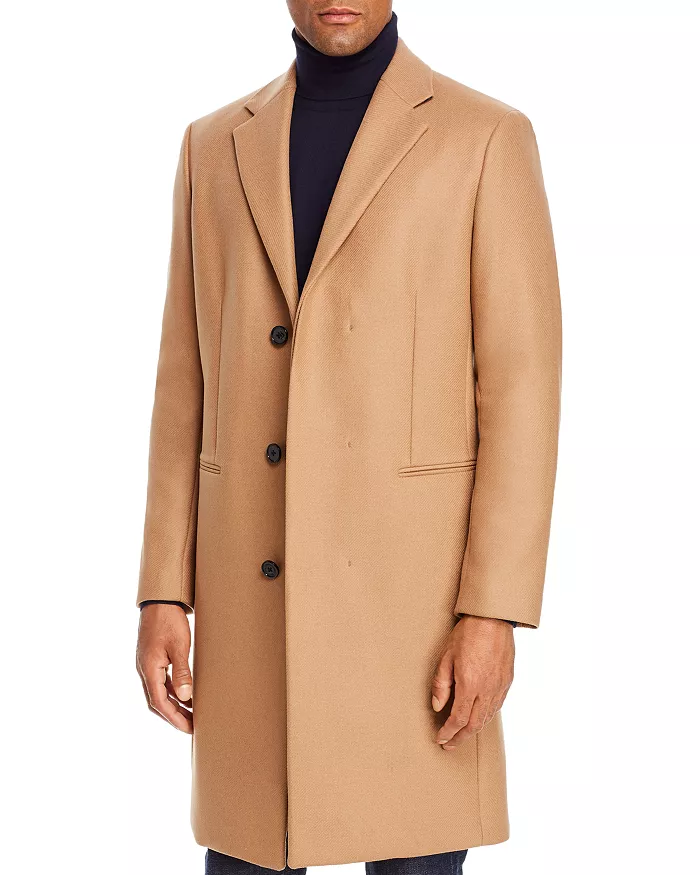 All Saints Birsdstow Wool Coat
BEST TO WEAR WITH JUST A T-SHIRT
The overcoat over a t-shirt can be a really great look for those in-between days in early Autumn and Spring. A thin overcoat can also be useful for those times when you're going out but don't want to put your jacket down. This trim cut, skinny lapel coat from All Saints is made from 100% wool. This coat can easily be paired with a simple white T, your favorite blue jeans, and sneakers.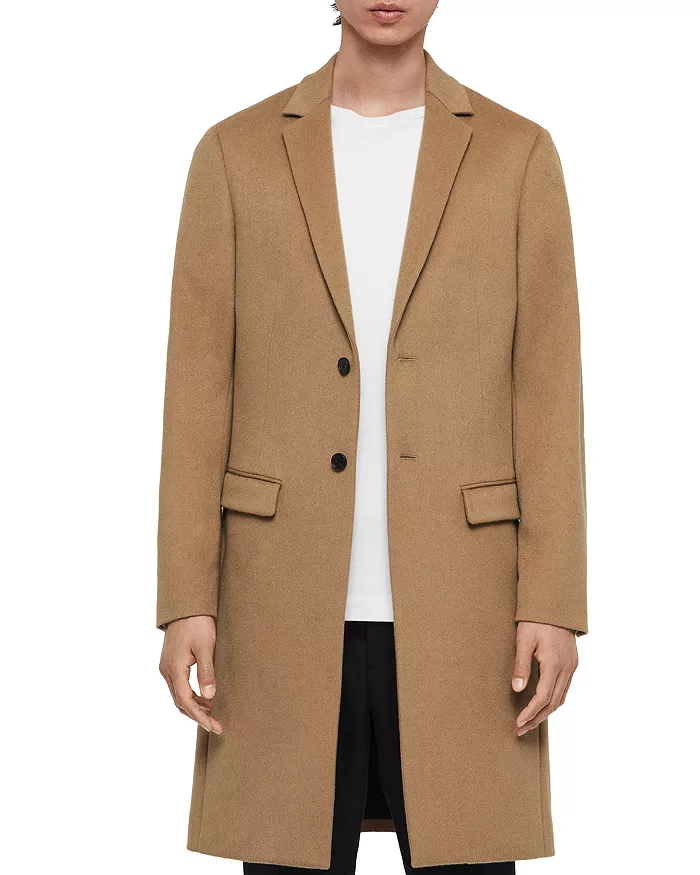 J Crew Ludlow Topcoat
BEST DAY TO DAY
If you want a reasonably priced option for everyday wear that will look good all winter long, J Crew always makes a solid option. The fit is not always ideal, but with some tweaking, it can be made to work. This is also a great choice for the office and has plenty of versatility for the weekend, especially as it has a little cashmere woven in for softness. If you're in the stage of your career where you're just kicking things off, go with this Ludlow topcoat from J Crew and wear it well with your first navy and grey suits.
Club Monaco Loukas Overcoat
BEST CHANGE OF PACE
This look from perennial staple Club Monaco is a cool variation on the standard camel coat. Cut to keep the collar up at all times, and with an extra button at the throat, this option has Mandarin-collar vibes and will get a few extra looks on the street. We suggest wearing this one with more casual outfits such as black jeans, hoodies, and high top sneakers.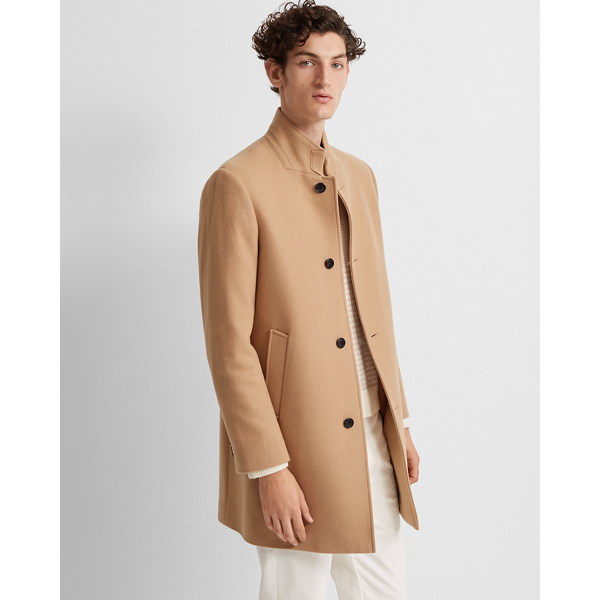 Mango Tailored Lapels Wool Coat
BEST BUDGET OPTION
Mango is a good lower-tier fast fashion brand in the realm of an H&M or Zara, and this well-proportioned coat is a great choice. For the jaw-droppingly low price of $169.99, this is undoubtedly one of the best camel coats under $200. You can grab this one (and one or three of the other colors) without going over budget. Wear this one with some casual joggers, a crewneck sweatshirt, and crisp white sneakers on the way to class. You can also dress this coat up with suits of almost any color.
Bonobos Stretch Italian Wool Topcoat
BEST FOR THE BIGGER GUY
Bonobos is great with their fits and their style. So should you be a taller, more broad gent, this is a great camel coat for you. With abbreviated peak lapels and a touch of stretch, this is an excellent choice to keep you warm and stylish, even if you're looking over everyone else's head while you do so. They also make the same coat for more average builds, and it's a great look for men of all sizes. Wear it with a turtleneck sweater, tweed pants, and suede boots for a look that's sure to impress.
Suit Supply Camel Double Breasted Coat
BEST DOUBLE-BREASTED OPTION
A double-breasted camel coat can leave you looking a little fogeyish, but this option from Suit Supply is anything but. With strong "Italian Gentleman" vibes, the new version of their Double Breasted overcoat is here to stay. This option is actually made of camel hair, and you'll appreciate its sheen and warmth for years to come. This winter coat has a nice trim fit, so you won't find yourself swimming in the extra fabric. We suggest wearing this over a thin merino sweater, layered with a shawl collar cardigan, flannel pants, and some Chelsea boots. Inherently warmer as a result of the doubling over of fabric (and genuine camel hair), this is a great option to pop the collar, throw on a big cushiony scarf, and go brave the elements!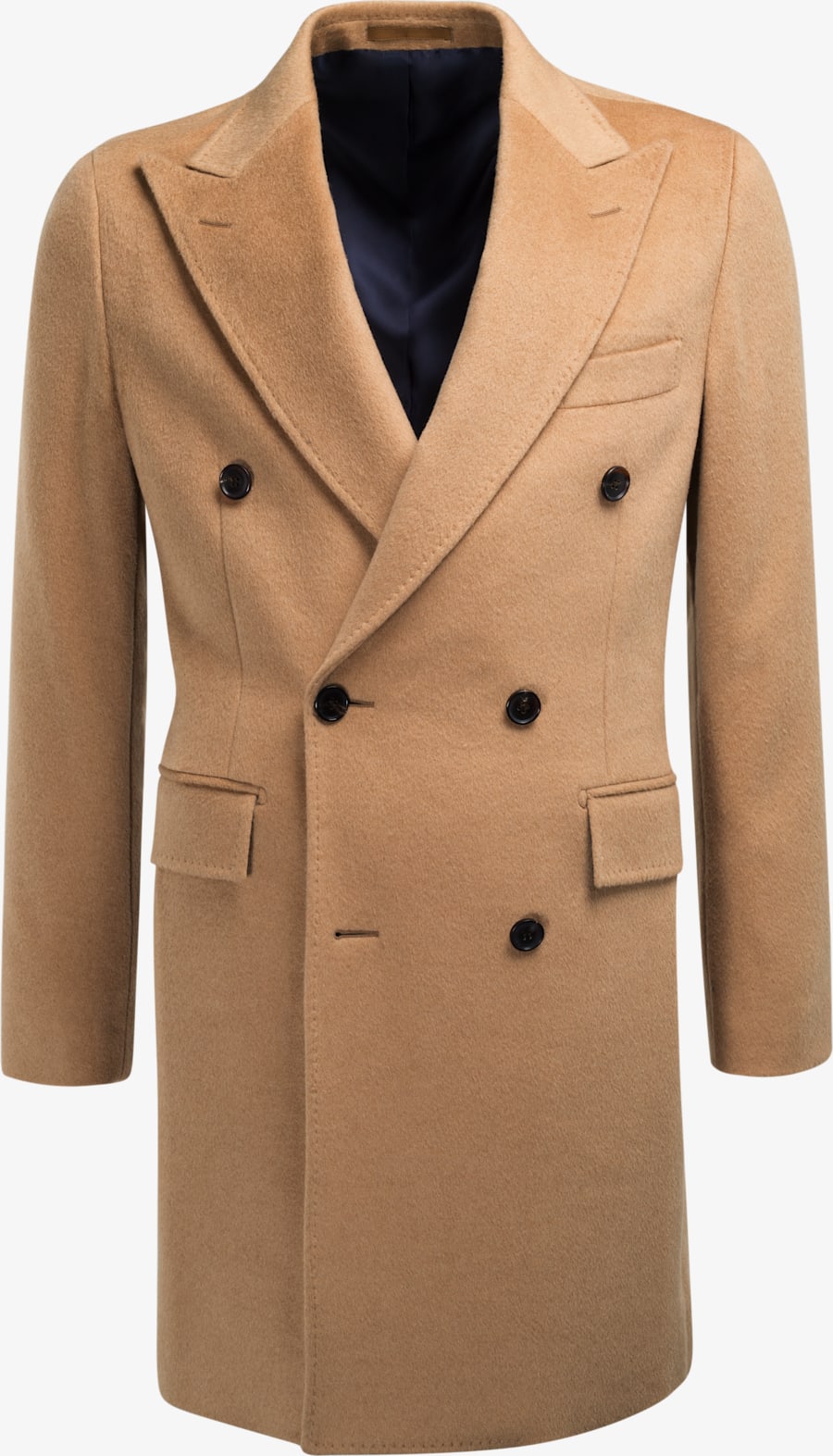 Reiss Camel Wool Pea Coat
BEST PEA COAT OPTION
Sometimes, a full-on overcoat is either unnecessarily formal or just too much coat for the activity at hand. In comes that classic Naval staple, the Pea Coat. Usually crafted in a dark navy blue, this camel rendition from Reiss is a nice change of pace. Cut shorter, but still double-breasted with a big collar for warmth, this is great to throw on with beat-up old boots and a cable knit sweater while on your way to Friendsgiving.
Mackintosh Weir Camel Duffle Coat
BEST DUFFLE COAT OPTION
A Duffle Coat is a great option for preppy vibes. The toggles, hood, and patch pockets all lend themselves to a cool utilitarian look, which is why it's been such a prep school and university look for years. The hood also helps keep you quite warm. October in New England is written all over this camel coat from Mackintosh, a cool British brand with roots in rainwear. It will look amazing with a college sweater, corduroys, and some classic sneakers.