The Most Stylish Men's Camel Coats of the Season — from Formal to Casual
The Camel Coat has become a must-have item for men this season, and the tan color matches nearly any outfit. Camel hair is warm and light, and the best camel coats keep you warm and cozy without the bulk that comes from a puffer jacket or men's parka. While some camel coats seem pricey, once you ammortize the cost, and realize how many years you'll be wearing it, the investment is worth the initial outlay.
These jackets create a classic silhouette for the winter, and the warm tan color looks great with blue suits, grey suits, and other types of formal wear. However, the camel coat doesn't have to be matched with formal attire. This popular coat also works perfectly with denim for a more laid-back vibe. And in today's athleisure world, the camel overcoat still looks great over a hoodie, your favorite joggers, and some crisp white sneakers.
While many of the best camel coats have a similar look, there are different cuts and styles to consider. Be sure to take a look at all of the options below.
1. Victor Li Double Breasted Coat
BEST OVERALL
Long and sleek, this double-breasted wool coat has two front flap pockets and a notched lapel. Made from imported Japanese wool, it's a touch of luxury imbued with timeless tailoring. New York-based Victor Li's only had his label since 2018 but has a coterie of celebrity fans who include Robert Downey Jr., Taika Watiti, Mat Bomer and Keith Powers.
Courtesy of Victor Li
2. Tommy Hilfiger All Weather Top Coat
BEST BUDGET BUY
Tommy Hilfiger's gone from a brand that's jumped on every trend to providing classic American-inspired sportswear. Picking up something from the line, one knows that it'll be well made, well-fitting and can be worn from season to season. Much like the affordably priced top coat. Made from a wool blend, this camel coat is water repellent. It has a car coat length, notched lapels for added dash and slash pockets.
Courtesy of Amazon
3. J. Crew Ludlow Topcoat
BEST DAY TO DAY
If you want a reasonably priced option for everyday wear that will look good all winter long, J Crew always makes a solid option. The fit is not always ideal, but with some tweaking, it can be made to work. This is also a great choice for the office and has plenty of versatility for the weekend, especially as it has a little cashmere woven in for softness. If you're in the stage of your career where you're just kicking things off, go with this Ludlow topcoat from J Crew and wear it well with your first navy and grey suits.
4. Reiss Gable Wool-Blend Epsom Overcoat
BEST FOR WORK AND WEEKENDS
Tailored to easily straddle the worlds of work and play, Reiss's camel coat is so effortlessly cool looking, it could quickly become your go-to coat no matter what's on your agenda. It's single-breasted, has a back vent and is partially lined.
Courtesy of Reiss
5. Mango Tailored Lapels Wool Coat
BEST CHAMELEON
Mango is a good lower-tier fast fashion brand in the realm of an H&M or Zara, and this well-proportioned coat is a great choice. For the jaw-droppingly low price of $169.99, this is undoubtedly one of the best camel coats under $200. You can grab this one (and one or three of the other colors) without going over budget. Wear this one with some casual joggers, a crewneck sweatshirt, and crisp white sneakers on the way to class. You can also dress this coat up with suits of almost any color.
6. Bonobos Stretch Italian Wool Topcoat
BEST FOR THE BIGGER GUY
Bonobos is great with their fits and their style. So should you be a taller, more broad gent, this is a great camel coat for you. With abbreviated peak lapels and a touch of stretch, this is an excellent choice to keep you warm and stylish, even if you're looking over everyone else's head while you do so. They also make the same coat for more average builds, and it's a great look for men of all sizes. Wear it with a turtleneck sweater, tweed pants, and suede boots for a look that's sure to impress.
7. Suit Supply Camel Double Breasted Coat
BEST FORMAL
A double-breasted camel coat can leave you looking a little fogeyish, but this option from Suit Supply is anything but. With strong "Italian Gentleman" vibes, the new version of their Double Breasted overcoat is here to stay. This option is actually made of camel hair, and you'll appreciate its sheen and warmth for years to come. This winter coat has a nice trim fit, so you won't find yourself swimming in the extra fabric. We suggest wearing this over a thin merino sweater, layered with a shawl collar cardigan, flannel pants, and some Chelsea boots. Inherently warmer as a result of the doubling over of fabric (and genuine camel hair), this is a great option to pop the collar, throw on a big cushiony scarf, and go brave the elements!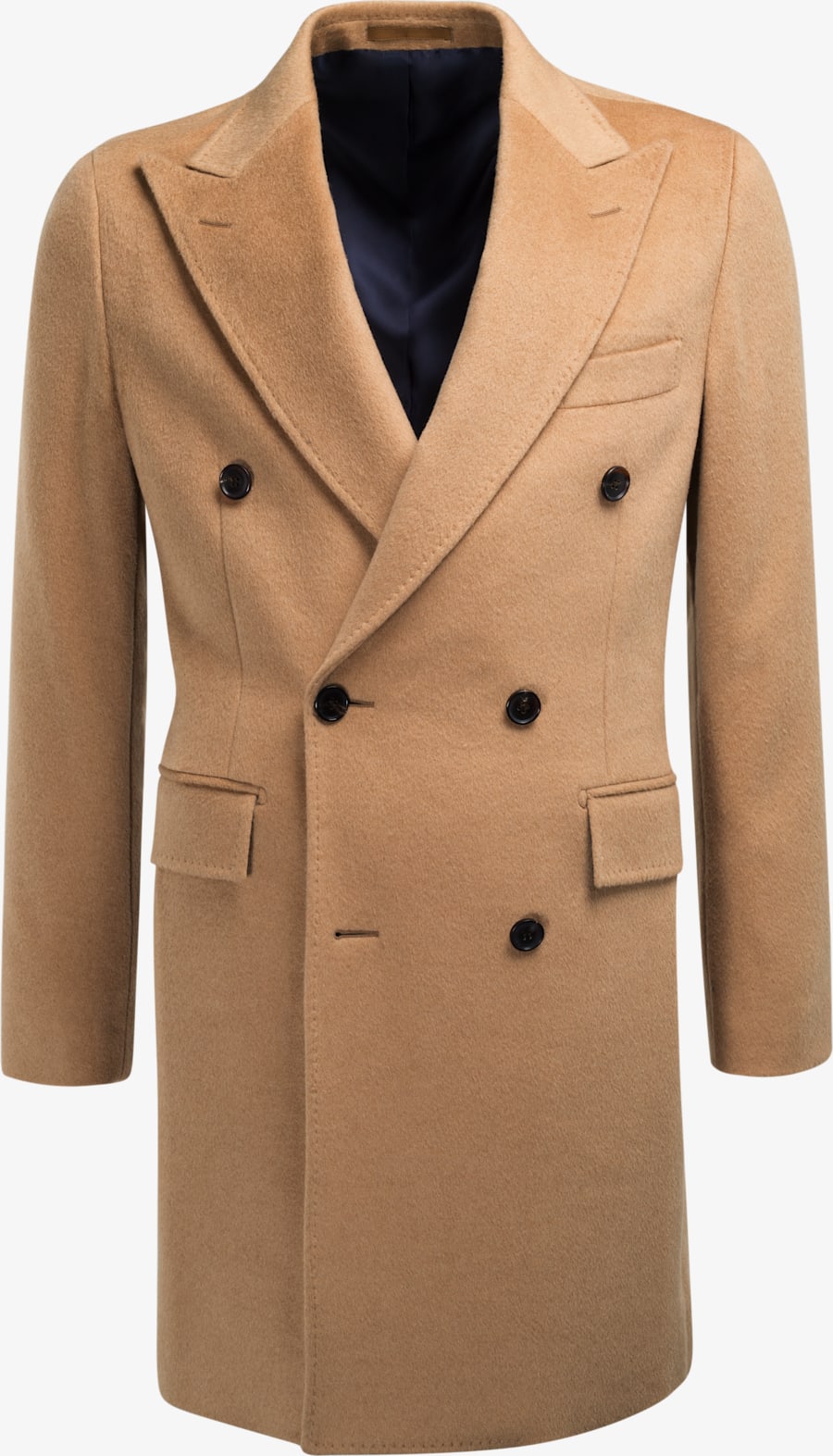 8. Kent & Curwen Single Breasted Coat
BEST ALMOST BESPOKE
British brand Kent & Curwen got their start making ties for Oxford and Cambridge universities back in 1926. So, it makes sense that their wool coat looks like it was partially inspired by the Eton jacket due to the contrast trim collar and clean lines of the coat. Made in Great Britain of 100% wool, it has a chest pocket, two front flap pockets, back vent, and hits mid-thigh.
Courtesy of Far Fetch
9. Burberry Wool and Cashmere Car Coat
MOST LIKELY TO BE A UNICORN
Finding a Burberry coat on sale is like finding a unicorn. Seriously, they rarely do get marked down, this Burberry is 40% off. This soft as a kitten cashmere and wool blend car coat has outer welt pockets, inner pockets, a back vent and is cut roomy enough to be worn over a thick sweater or blazer.
Courtesy of My Theresa
10. Bellemere New York Merino Wool Car Coat
MOST SOPHISTICATED
The car coat is a coat that's not as formal as a long coat, nor too casual like a jacket. Because it hits mid-thigh, it's versatile enough to go from work to athleisure wear. The basic car coat's been reimagined into something that lusciously, luxely tailored with notched lapels and angled pockets. It's got attitude that perfect sets off your favorite jeans or trousers.
Courtesy of Bellemere New York