Compared to basketball shorts or running shorts, the best gym shorts aren't necessarily purpose-built for one type of athletic endeavor. That's because if you're in the market for gym shorts, you're probably looking for something that's versatile enough to suit a range of different workouts. If you want something that can take you from a casual bike ride to a sweaty session at the gym, the best gym shorts for men will help you cover all your bases. There are even some picks that are stylish enough to wear to a (very) casual lunch. But unlike your standard pair of chino shorts, there's a lot of variety in gym shorts.
One key factor to look out for when shopping for gym shorts is the liner. Many running and running-inspired shorts will either have a brief liner, similar to what you'd find on a pair of swim shorts, while others have a long compression liner, similar to bike shorts. Lined shorts are designed to be worn sans underwear, so you won't need to buy fitness-specific boxer briefs. Lined shorts are easy to just pull on and go, but you'll obviously need to wash them more often. Unlined shorts are more versatile in their simplicity, but you might need to be more selective about your underwear choice for greater comfort.
Another key factor to consider is the length. Shorter shorts (with 5″ to 7″ inseams) can allow a wider range of movement and are generally more stylish, but some guys might not be as comfortable with showing off so much leg. Longer shorts can offer greater coverage, which might suit certain sports better.
Brands make specific types of shorts for a reason, with different materials, fits and finishes depending on what activity you're doing — and how intensely you're doing it. Remember: the best gym shorts for a pickup basketball game won't necessarily be the best gym shorts for a five-mile jog. So before you throw on those Lululemons for spin class, learn about these 16 pairs of gym shorts and snag the appropriate one for your next workout.
1. Rhone Mako Workout Short
BEST FOR A HIIT CLASS
When going to a high-intensity interval training class, it is best to have clothing that can keep up. It's going to be sweaty, so you want to have moisture-wicking fabrics so you don't end up dripping wet. When possible, it's also great to have your gear lined with men's compression shorts to avoid unnecessary layers and ensure ease of use. This pair from new activewear brand Rhone brings all of those to the table. This brand actually provides a few different iterations of these workout shorts to suit your style (and activity). They can come lined or unlined and also in a few different lengths depending on your preferences.
2. lululemon Pace Breaker Shorts
BEST FOR YOGA
If you are headed to a yoga class, go with the OG yoga wear brand that started off the athleisure craze in the first place. That's right, lululemon isn't just for women. lululemon has maintained its popularity because they truly make a great product. By combining comfort and high performance, lululemon has designed some of the best gym shorts for men in the world. For your next hot yoga class, you can't go wrong with their Pace Breaker Shorts. Some customers have found that these aren't the longest-lasting gym shorts available today, so keep that in mind if longevity is more important to you than comfort.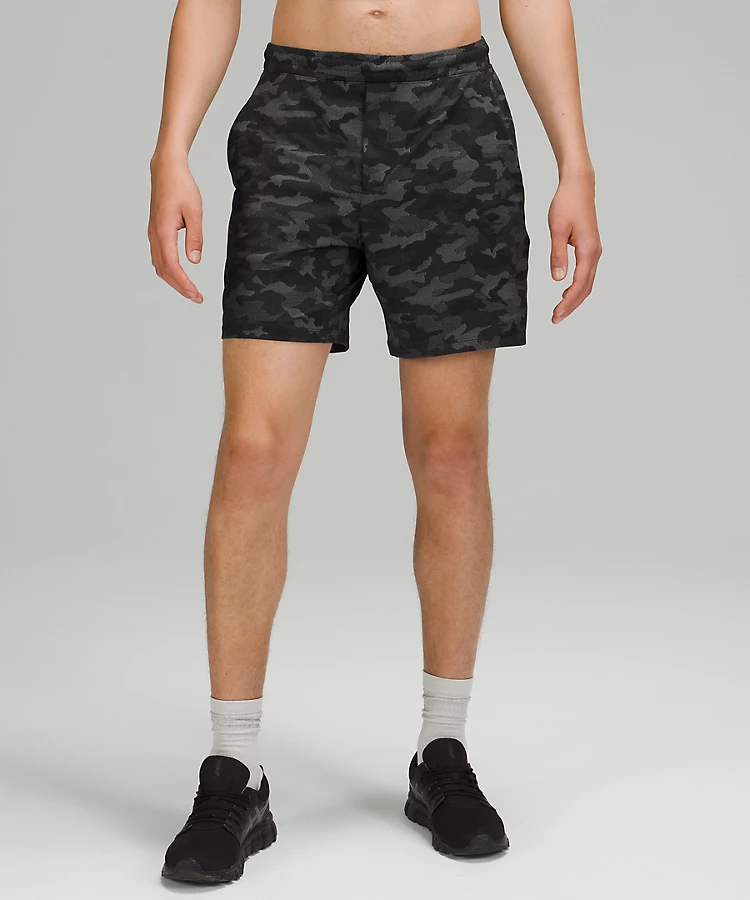 3. Nike Flex Stride Shorts
BEST RUNNING SHORTS
When taking an outdoor run, you don't want anything weighing you down. You want to avoid unnecessary clutter and maintain plenty of mobility. The interior compression liner on these running shorts helps to keep, ahem, everything in place, and they're just the right length to get your stride on. These also have a zip pocket at the small of your back so you can keep your phone safe and out of the way. When searching for the best men's gym shorts, you can't ignore Nike.
4. Uniqlo Dry-Ex Ultra Stretch Active Shorts
BEST VALUE
You don't need to spend a lot to get quality. But if you shop at Uniqlo, you already know that. These shorts have a simple, logo-free design that makes them highly versatile. Colors include heather gray, black, green and navy. The shorts have an internal drawstring and three pockets. There are two mesh hand pockets, plus a zippered side pocket for secure storage while you're on the move. Subtle side vents allow for a wider range of movement.
5. Tracksmith Van Cortlandt Shorts
MOST BREEZY
Made entirely from a superior, lightweight mesh, these shorts from Tracksmith are great for those who want to ensure their legs have plenty of breathing room. With their four-inch inseam, they're a little on the shorter side without ever being too short while the anti-stink mesh will provide plenty of support and comfort in spite of their decidedly breezy construction.
6. Adidas Aeroready Sport Shorts
MOST VERSATILE
These shorts from Adidas are a great all-purpose option for a variety of sports. They have a longer, looser fit for greater comfort, and the shorts have zippered pockets for stashing your phone, wallet and keys. Plus, these shorts are made from recycled polyester.
7. Allbirds Men's Natural Run Short
BEST FABRIC
Allbirds proves that polyester isn't the only performance fabric. These shorts are made from a blend of merino wool, nylon and elastane for stretch. The 7″ length is a good compromise between shorter and longer shorts. The shorts have two hand pockets and one back pocket.
8. Outdoor Voices High Stride
BEST COLORS
Outdoor Voices has long positioned itself as the company built for "Doing Things," so these High Stride shorts are capable of handling anything and everything you throw at them. We're personal fans of the High Stride shorts for their captivating prints and colors which will add just the right amount of jazz to any physical task.
9. Champion Men's 7-inch Powerblend Short
COZIEST
If you prefer to keep it old school with your workout gear, Champion has you covered. These shorts are made from a cotton/poly fleece material, providing sweatpant levels of comfort. They're not as performance-minded as some of the shorts on this list, but for casual runs, yoga and general gym workouts, these shorts will keep you comfortable and looking cool.
10. GapFit Recycled Running Shorts
BEST VARIETY
Don't sleep on Gap's surprisingly solid selection of workout gear. These shorts are made from recycled polyester. The shorts have a split hem that allows for ease of movement, while the mesh panel on the back promotes breathability. They also have a built-in lining. The trim fit and logo-less design make for a short that can easily take you from the gym to a casual outing. Plus, they're available in a wide range of unique colors.
11. Chubbies Hybrid Swim Gym Shorts
BEST FOR TRAVEL
When trying to stick to carry-on only, it's great to have some shorts that can pull double duty for the beach or a yoga class. For these occasions, look to the humorous brand Chubbies for their hybrid swim gym shorts. The four-Way stretch allows for all kinds of activities, making it easy to go from the beach to brunch in a snap. At 5.5 inches, they're a little on the shorter side, but that shouldn't be an issue if you're relaxing and chilling out on vacation.
12. Champion Jersey Shorts
BEST FOR RECOVERING AFTERWARDS
After some tough workouts, it's best to take it easy at home in something cozy. For these times, there are the old school jersey sweat shorts in an OG heather grey from Champion. Loose, snuggly and easy to throw on while grabbing a Theragun and working over your sore muscles, these are the best post-gym shorts on our list.
13. lululemon Liner Surge Short
BEST BUILT-IN LINER
If you'd rather forgo having to worry about compression shorts or just enjoy the look of a layered set of shorts, lululemon's Surge shorts will be your new favorites. With built-in pockets included in the liner, a loop for you to tuck in your shirt, and just an overall cool looking set of shorts, there's a strong chance they'll be your new favorite set of shorts.
14. Ten Thousand Interval Short
MOST CUSTOMIZABLE
The great thing about Ten Thousand's Interval Short is that you can totally build a pair that suits your individualized needs. Want a liner and a long inseam? Or a short inseam and no liner? The options are practically endless with these shorts. Oh, and there are plenty of color options to suit your mood on a given day.
15. adidas Own the Run Shorts
BEST VALUE
At $35, these eye-catching shorts from adidas get you a popular brand name set of workout shorts for a price that's not too much of an investment. The shorts include a dedicated zip pocket to hold onto your essentials, while full reflective details mean you can run at nighttime without worry.
16. On Running Hybrid Shorts
BEST SPLURGE
On Running continues to set the bar when it comes to really high-end running gear. These shorts have a built-in liner for comfort while managing to be ultra-light and tear-proof. The fast-drying material means you can work up a sweat and have them dry before you know it, while the Italian-sourced waistband fabric provides superior comfort with a snug fit.
The Best Workout Gear For You To Sweat It Out In — No Matter the Weather