Upgrade Your Workout With the 15 Best Gym Shorts for Every Sport
Still wearing that ratty pair of basketball shorts to yoga? Then it's time to rethink your workout gear. Having the right tool for the job is just as important for a home improvement project as it is for working out. After all, they're called basketball shorts for a reason. Contrary to what you might think, shorts that function on the court won't serve you well at the yoga studio. You wouldn't wear running shoes while playing basketball, would you?
Brands make specific types of shorts for a reason, with different materials, fits and finishes depending on what activity you're doing — and how intensely you're doing it. Remember: the best gym shorts for a pickup basketball game won't necessarily be the best gym shorts for a five-mile jog. So before you throw on those lululemons for spin class, learn about these 15 pairs of gym shorts and snag the appropriate one for your next workout.
1. Under Armour Project Rock Terry Printed Shorts
BEST FOR WEIGHT TRAINING
When it comes to lifting weights, there is no one in the world right now quite like Dwayne 'The Rock' Johnson. His Instagram posts are the stuff of legend, and his physique is a superhero come to life. If you want to reach a personal best, then you can't go wrong by using the same workout shorts as the rock. This pair of men's gym shorts come from Dwayne Johnson's Under Amour collaboration, and they're designed for the serious weight lifter. Plus, they've got a super fun print on them!
Under Armour
Under Armour Project Rock Terry Printed Athletic Shorts
$55.00
2. Rhone Mako Workout Short
BEST FOR A HIIT CLASS
When going to a high-intensity interval training class, it is best to have clothing that can keep up. It's going to be sweaty, so you want to have moisture-wicking fabrics so you don't end up dripping wet. When possible, it's also great to have your gear lined with men's compression shorts to avoid unnecessary layers and ensure ease of use. This pair from new activewear brand Rhone brings all of those to the table. This brand actually provides a few different iterations of these workout shorts to suit your style (and activity). They can come lined or unlined and also in a few different lengths depending on your preferences.
Rhone Mako Shorts
$78.00
3. lululemon Pace Breaker Shorts
BEST FOR YOGA
If you are headed to a yoga class, go with the OG yoga wear brand that started off the athleisure craze in the first place. That's right, lululemon isn't just for women. lululemon has maintained its popularity because they truly make a great product. By combining comfort and high performance, lululemon has designed some of the best gym shorts for men in the world. For your next hot yoga class, you can't go wrong with their Pace Breaker Shorts. Some customers have found that these aren't the longest-lasting gym shorts available today, so keep that in mind if longevity is more important to you than comfort.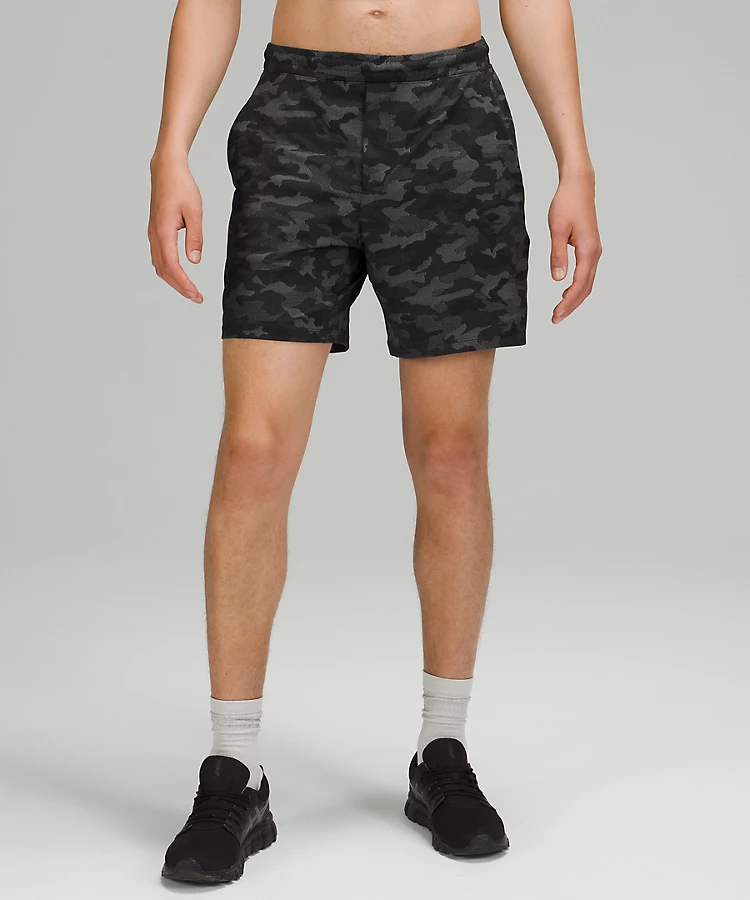 lululemon Pace Breaker Shorts
$68.00
4. Nike Flex Stride Shorts
BEST RUNNING SHORTS
When taking an outdoor run, you don't want anything weighing you down. You want to avoid unnecessary clutter and maintain plenty of mobility. The interior compression liner on these running shorts helps to keep, ahem, everything in place, and they're just the right length to get your stride on. These also have a zip pocket at the small of your back so you can keep your phone safe and out of the way. When searching for the best men's gym shorts, you can't ignore Nike.
Nike
Nike Flex Stride Shorts
$55.00
5. Gymshark Sport Shorts
BEST FOR THAT TRENDY NEW CLASS
In the same way that a new workout class is more fun because of the hype that comes along with it, sometimes a new gymwear brand carries some of the same excitement. For guys who want to try a new athletic apparel company, consider Gymshark. This Instagram-famous brand is worn by several fitness influencers, and they actually make very good looking gym shorts that fit great and perform well. And, at $25, they're incredibly affordable.
Gymshark
Gymshark Sport Shorts
$25.00
6. Chubbies Hybrid Swim Gym Shorts
BEST FOR TRAVEL
When trying to stick to carry-on only, it's great to have some shorts that can pull double duty for the beach or a yoga class. For these occasions, look to the humorous brand Chubbies for their hybrid swim gym shorts. The four-Way stretch allows for all kinds of activities, making it easy to go from the beach to brunch in a snap. At 5.5 inches, they're a little on the shorter side, but that shouldn't be an issue if you're relaxing and chilling out on vacation.
Chubbies
Chubbies Hybrid Swim Gym Shorts
$59.50
7. Champion Jersey Shorts
BEST FOR RECOVERING AFTERWARDS
After some tough workouts, it's best to take it easy at home in something cozy. For these times, there are the old school jersey sweat shorts in an OG heather grey from Champion. Loose, snuggly and easy to throw on while grabbing a Theragun and working over your sore muscles, these are the best post-gym shorts on our list.
Amazon
Champion Jersey Shorts
$15.00
8. lululemon Liner Surge Short
BEST BUILT-IN LINER
If you'd rather forgo having to worry about compression shorts or just enjoy the look of a layered set of shorts, lululemon's Surge shorts will be your new favorites. With built-in pockets included in the liner, a loop for you to tuck in your shirt, and just an overall cool looking set of shorts, there's a strong chance they'll be your new favorite set of shorts.
lululemon
lululemon Liner Surge Short
$88.00
9. Rhone Swift Short
MOST COLORFUL
This new color from Rhone is a vibrant and striking tie-dye that's bound to bring even more excitement to your workouts. Rhone's Swift shorts are lined and seven inches long to give you considerable length and comfort during the toughest moments of that exercise. Whether it's hitting a new personal record on your run or clearing a new weight-lifting goal, you'll do it in style with these shorts.
Rhone
Rhone Swift Short
$88.00
10. Outdoor Voices Rec Shorts
BEST PATTERN
Outdoor Voices has long positioned themselves as the company built for "Doing Things," so these rec shorts are capable of handling anything and everything you throw at them. We're personal fans of the Rec Shorts for their captivating prints (like this Hunter Fleck colorway) which will add just the right amount of jazz to any physical task.
Outdoor Voices
Outdoor Voices Rec Shorts
$58.00
11. Tracksmith Reggie Half Tights
BEST TIGHTS
If your personal preference for shorts is something a little bit more snug, Tracksmith's Reggie Half tights are made for those who feel the need for speed. Streamlined and sleek, they're incredibly lightweight for those who want to totally shatter their own personal best running time or for those who just want something that moves and stretches with ease.
Tracksmith
Tracksmith Reggie Half Tights
$68.00
12. adidas Own the Run Shorts
BEST VALUE
At $35, these eye-catching shorts from adidas get you a popular brand name set of workout shorts for a price that's not too much of an investment. The shorts include a dedicated zip pocket to hold onto your essentials, while full reflective details mean you can run at nighttime without worry.
adidas
adidas Own the Run Shorts
$35.00
13. On Running Hybrid Shorts
BEST SPLURGE
On Running continues to set the bar when it comes to really high-end running gear. These shorts have a built-in liner for comfort while managing to be ultra-light and tear-proof. The fast-drying material means you can work up a sweat and have them dry before you know it, while the Italian-sourced waistband fabric provides superior comfort with a snug fit.
On Running
On Running Hybrid Shorts
$99.99
14. Ten Thousand Interval Short
MOST CUSTOMIZABLE
The great thing about Ten Thousand's Interval Short is that you can totally build a pair that suits your individualized needs. Want a liner and a long inseam? Or a short inseam and no liner? The options are practically endless with these shorts. Oh, and there are plenty of color options to suit your mood on a given day.
Ten Thousand
Ten Thousand Interval Short
$68.00
15. Tracksmith Van Cortlandt Shorts
MOST BREEZY
Made entirely from a superior, lightweight mesh, these shorts from Tracksmith are great for those who want to ensure their legs have plenty of breathing room. With their four-inch inseam, they're a little on the shorter side without ever being too short while the anti-stink mesh will provide plenty of support and comfort in spite of their decidedly breezy construction.
Tracksmith
Tracksmith Van Cortlandt Shorts
$60.00
The Best Workout Gear For You To Sweat It Out In — No Matter the Weather