8 of the Best Bomber Jackets for a Fashionable Layer for all Your Activities
Bomber jackets are one of many fashion staples with a history in the armed forces. Function, it would seem, frequently looks good. First popularized in the 1950's, their simple styling with ribbed cuffs, collar and waist went from military to punk, and have had a recent resurgence in popularity.
Popularized by European airmen at first, who wore their old military jackets in civilian life, the ease of adding additional lining or wearing them thinner has made this jacket prevalent in many industries — Police, Pro Baseball, Varsity jackets — and continues to be an easy layer for nearly any casual situation. That versatility has lead to many different iterations across the spectrum of styles, costs, and fabrics!
They have of course now made it into high fashion, and the options below are great examples thereof. Suede, leather, nylon, wool, colors and price points for all tastes and wallets, these have huge utility to be dressed up or down!
1. All Saints Kemble Suede Bomber Jacket
BEST OVERALL
The author owns this bomber jacket in a shade of light grey, and has consistently received a minimum of 3 compliments each time he's worn it! Just imagine the possibilities for you. The suede is buttery soft but is unlikely to be too durable, so keep this as a jacket reserved for special occasions. All Saints is very trim cut, which makes this perfect to wear over thinner button downs and T shirts.
The Oxblood red is a new variation on the Kemble jacket, and while it reads a shade of brown at first, the oxblood shade makes it easier to pair with different blacks and greys as well. Throw this one on with some cut hem jeans, brown leather chelsea boots, a curved hem shirt and maybe a few extra pieces of jewelry.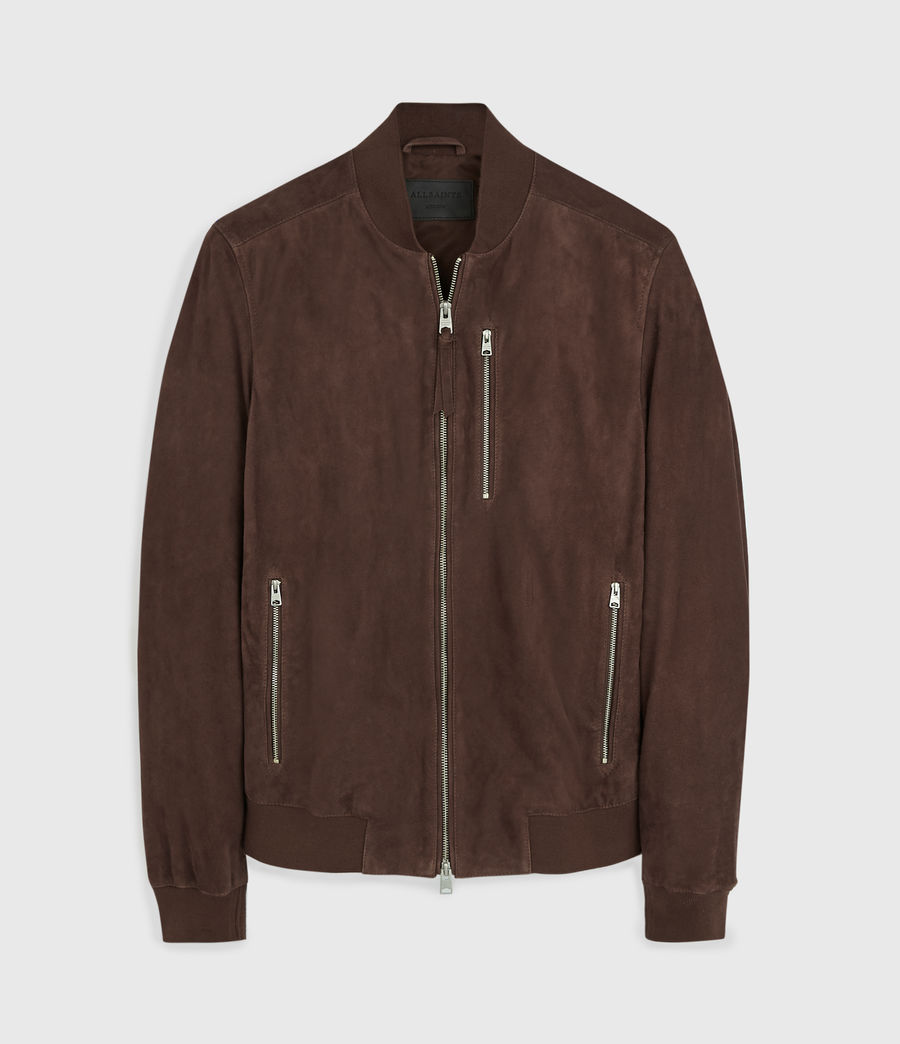 2. Bonobos Boulevard Bomber Jacket
BEST BASIC
A basic navy bomber jacket is one of the most versatile jackets you can have in your closet. Wear it with dark wash jeans and a light blue oxford cloth button down, and bring out some of the crazy designer sneakers you just bought for a little pop. Throw on olive chinos, a grey crewneck sweatshirt, some beat up canvas sneakers and walk to the bar around the corner for some Sunday Football. Wear it to the stadium for a soccer game! Wear it with white jeans in the spring! No matter how hard you try, you really can't go wrong here. Bonobos always makes great fitting clothes, and their outerwear has a standard fuller cut. The navy nylon is tough and hard wearing, and will look nice and crisp for a long time to come.
3. Rag & Bone Manston Bomber Jacket
BEST HIGH FASHION OPTION
WHAT A BLUE! No hiding in this jacket from perennial cool guy brand, Rag & Bone. Classically styled yes, but this jacket has a trimmer cut than a classic bomber jacket, and while the satin vibe has been consistent for many iterations of the Bomber, this one is certainly pushing boundaries. That trim cut, interesting blue, and flashy without being pretentious vibe makes this a great statement piece. Keep all the underpinnings basic with a simple crew neck shirt or merino sweater in a basic color, grey jeans and simple white sneakers. Slip the jacket on and let it set the precedent for you right when you walk in the room!
4. UNIQLO Blouson BomberJacket
BEST BUDGET
You know those nights where it's cold enough to wear a jacket out, but not cold enough to keep it on once you arrive? Maybe you want to put your jacket down, but are worried someone may grab it? Then you need this budget option from Uniqlo. It looks far better than its price tag would entail, but should something happen to it, you won't be heartbroken. Get a standard black and you can't go wrong. The cut is a fuller one, so size down depending on what you may wear it with. As it is inexpensive and relatively thin in a standard nylon, Uniqlo's bomber makes for a great layer under an overcoat when traveling.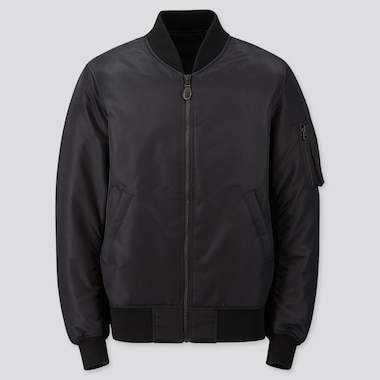 5. Buck Mason Bruiser Bomber Jacket
BEST LEATHER OPTION
With Brando vibes and a solid price point for a leather jacket, the "Bruiser" bomber jacket from Buck Mason is a can't miss option. This bomber has a thick, quilted lining underneath twice-washed lambskin, which is just as soft as the more prevalent calfskin, but will wear longer and with more durability. This option is great for the winter and may be the warmest option on this list. We see your Bomber jacket, raise you a leather jacket and boom, best of both worlds. Wear this one with a zip hoodie, black shirt, some high top Nike's and grey jeans for a cool urban look.
6. Alpha Industries MA-1 NASA Bomber Jacket
BEST ORIGINAL MILITARY
As mentioned earlier, the bomber jacket came from military styling and use, only to move from there to the fashion world. One of the originators thereof is Alpha Industries, a brand whose roots are as outfitters for the actual military of the US. Their high-quality gear can be now be had by the general public, and the punchy orange satin lining makes for a striking detail. Pick up this cool NASA-branded one, as you're going to look so good you'll be over the moon!
7. Saint Laurent "Teddy" Bomber Jacket
MOST LUXE
Hedi Slimane, while at the helm of Saint Laurent, created one of the more iconic jackets of recent memory. Instantly recognizable and a status symbol in its own right, the Teddy Bomber jacket is made unique by the white stripes at the shoulder which gives it the cool designer flair many Saint Laurent diehards appreciate. Designed closer to the varsity jacket styling prevalent for high school football teams, the look of this one will make put you on the Varsity Squad of looking like a rockstar. Wool construction will keep you warm, and the leather details and trim Saint Laurent cut will keep you looking great. If you feel like picking up one of the icons of the 2010's, go all out and get it in red!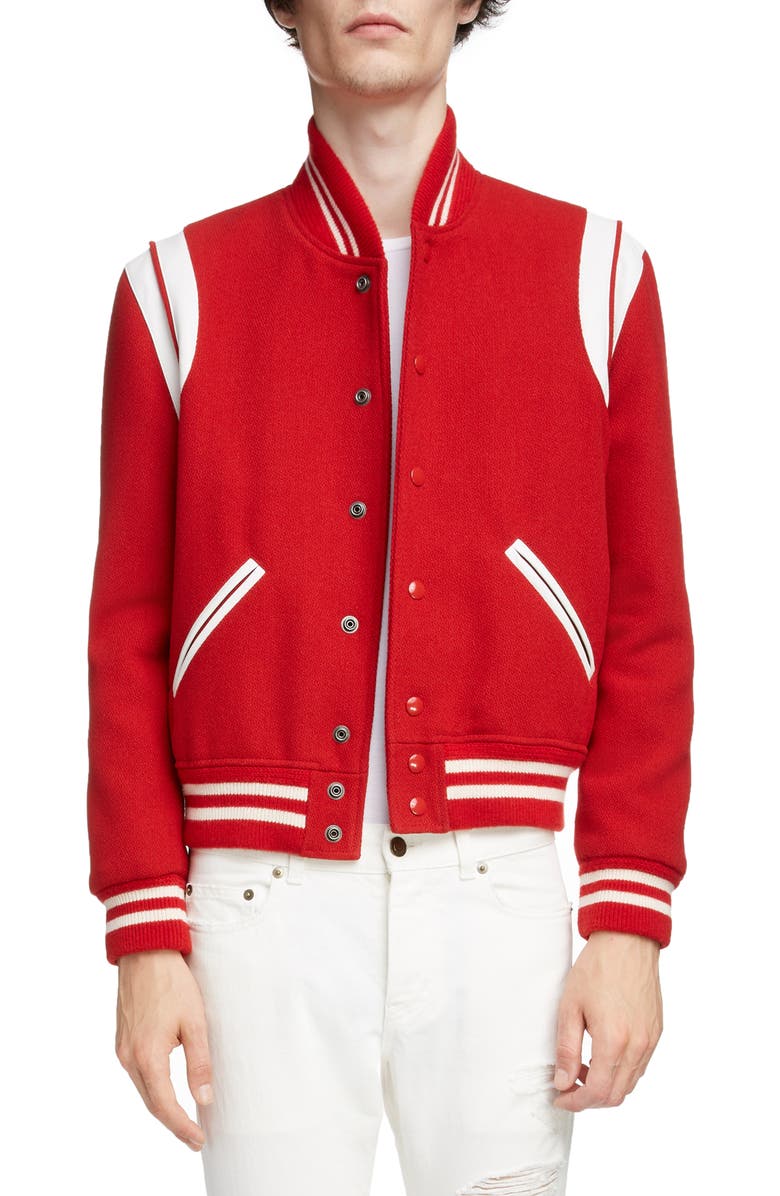 8. Zara Textured Bomber Jacket
MOST ACCESSIBLE HIGH FASHION
Zara is known for fashion forward trendy pieces, at a very accessible price point. This wool bomber jacket in an interesting shade of burgundy is an excellent example. The wool construction dresses up this option, making it go perfectly with grey dress slacks, a white button down, and some sharp loafers. It can hold its own as a statement piece as well, as this is definitely a fashion forward choice. Bring it out on date night, or for dinner with friends in the early spring.