The 9 Best Men's Corduroy Jackets for Fall and Winter Style
Corduroy, velvet's ribbed cousin, has been a staple for professors and Dads for years. It has preppy roots, and its thick corded texture makes for a great barrier against the elements. It can elevate a simple blazer to a perfect layer for the cold, or add a little visual texture to a trucker jacket when you want to change things up a bit. To keep you warm, stylish, and just a little formal, we went looking for the best men's corduroy jackets of the season.
Try a few variations of the options below with your best Fall and Winter gear, and stay nice and warm while looking great.
1. Polo Ralph Lauren Corduroy Blazer
BEST OVERALL
Ralph Lauren's preppy basics have killed this section of the fashion world for decades. Elevated iterations of Prep School uniforms, and the stuff those same types of people wear on weekends, has been Ralph Lauren's foundation for a long time. It's also turned him into a billionaire. The army green, trim fit, bit of stretch, and medium width lapel of this option makes it perfect to give a little class to some of your casual outfits this winter. Wear it with lighter wash jeans and try with the fair isle sweater you see below, or a merino or cashmere turtleneck in a complimentary color.
2. Reiss Jefferson Corduroy Blazer
BEST FOR NIGHT LIFE
Add a little warmth and texture to your winter nightlife rotation with this thinly ribbed corduroy blazer from Reiss. The peak lapel and single button closure give this piece almost tuxedo vibes. Keep it classy and wear it to a high-end Holiday party or your favorite club. This is also a great option for date night. Wear it with faded black jeans, a crisp white button-down, and Chelsea boots, or with grey flannel trousers, some black penny loafers, and a burgundy sweater.
3. J Crew Corduroy Trucker Jacket
BEST FOR CASUAL WEEKEND WEAR
A corduroy trucker jacket is a great fall option. Slightly warmer than the standard denim trucker jacket but with all of the versatility, these are great to wear over chunky sweaters and hoodies and make for a perfect companion when going to a football game or tailgate of some kind. This one has a touch of stretch, and the deep "cadet" navy looks great with some oatmeal-colored chinos, beat up lace-up boots, and your alma mater's thick Champion hoodie.
4. Todd Snyder Corduroy Shirt Jacket
BEST FOR LAYERING
Occasionally, you need a little versatility in your outfit for the day, particularly those late Fall/Early winter days that start out freezing and promptly change 20 degrees over the course of a few hours. In comes this incredible corduroy shirt jacket. Corduroy is perfect for this type of garment, as it's definitely warm without being too bulky. Wear it over another similar shirt like one of your favorite flannel shirts or a basic t-shirt, then under a peacoat to get options during the day. Alternatively, it can be worn by itself, but it's typically cut to allow room for another shirt underneath so it may be a little baggy in your regular size.
5.Reiss Double Breasted Corduroy Blazer
BEST ITALIAN GENTLEMAN STYLE
The double-breasted blazer is not for the faint of heart, but once you get it on you'll see that you too can pull off this look. The handsome olive green is very versatile and will look great with some tan or light brown suede tassel loafers, stone chinos, and a chambray shirt. This is a great option for holiday parties, date night, and business casual offices. It's also classically styled so even though the green is a bit of a pop, you'll see more and more opportunities to wear it.
6. FRAME Corduroy Trucker jacket
BEST HIGH FASHION OPTION
Cut in a wider cut, and with a zipper as opposed to buttons, this "faded noir" corduroy trucker jacket is going to be a big hit at those parties in Brooklyn (or whichever hipster neighborhood you find yourself in). It has a nod to the classic styling of a trucker jacket, but the baggier cut and zip is the real differentiation here and what makes this such a cool piece. Wear this over a graphic tee, with wider cut black jeans and some Doc Martens boots. At first glance, you might mistake this trucker jacket for a bomber, and the casual cut makes this one of the best men's corduroy jackets of the season.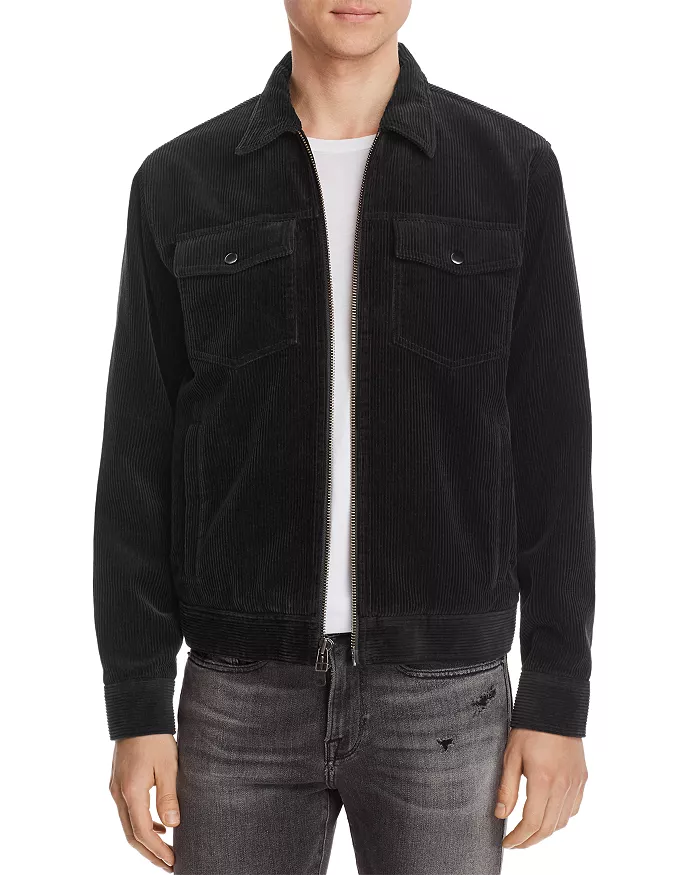 7. H&M Corduroy Jacket
BEST BUDGET OPTION
H&M can, on occasion, really nail the execution of a simple garment. As corduroy is known not just for its warmth but also for its durability, this basic from H&M is the perfect budget option. The light color will pair perfectly with your favorite pair of white sneakers.
8. Mango Sherpa Lined Corduroy Trucker jacket
BEST FOR WARMTH AND BUDGET
What's great about a trucker jacket is its versatility as a layer. Different variations of trucker jackets, different uses as a layer. This corduroy jacket from budget-friendly Mango is plenty warm just by itself, but pop the collar and wear it under a peacoat and you've just created a Frankenstein's monster of toastiness. This one would look great with dark jeans, a t-shirt, and sneakers, or over a flannel shirt and under the aforementioned peacoat with some great boots.