The 9 Pairs of Jeans Every Guy Should Have in Rotation This Season
Jeans can be the best or worst thing in your closet. Do your jeans have pleats? Cargo pockets? Are they weirdly cut in that particular neither here nor there blue? Please set those on fire, and instead pick up every pair in this list, so you can look good in any situation.
Denim has come a long way since its inception, and even further along in the past few years. While certain diehards might opt for selvedge denim that lasts forever and gets better with age, we prefer the more comfortable styles. Thankfully, in 2019, jeans are often treated with stretch for a lot more comfort and ease of wear, and these are the new normal.
Below we've compiled a list of nine fail-proof pairs. They range in different cuts and color so you can find a few new favorites and step out in style this winter.
1. Paige Normandie Straight Leg Jeans
BEST OVERALL
If you wanted to have only one pair of jeans, these check more boxes than any other pair listed. A deep blue, on the darker side but with some wear marks, will go with more things than just about any other iteration of jeans you can find. Straight leg is the gold standard, and works with a range of shoes, from work boots all the way to espadrilles. Roll em a few times and wear em to the bar near the beach, or keep them nice and wear them with a crisp button down and blazer. Then, add Paige's signature fabric and you'll see they're so comfortable that you could sleep in them if you so chose!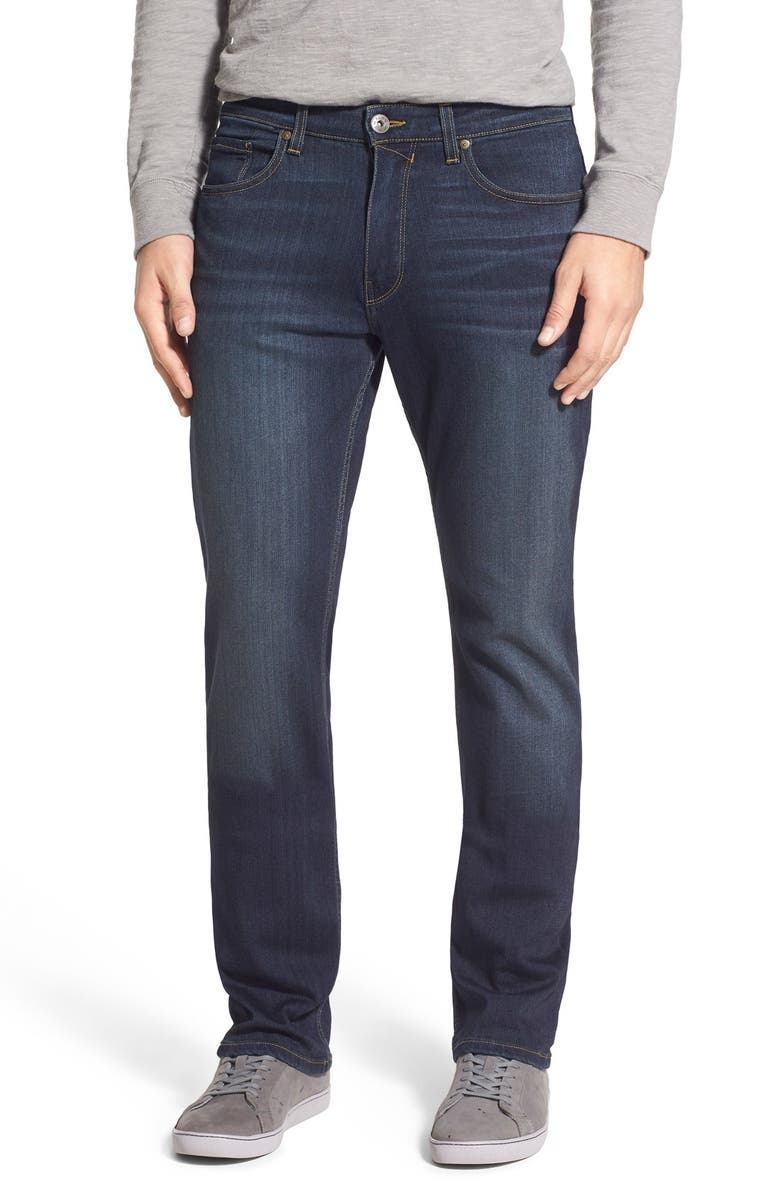 2. Amiri Skinny Fit Distressed Stretch Denim Jeans
BEST DISTRESSED DENIM
Distressed denim is still having a big moment. While it's not in quite the heyday it was having a few years ago, it still very much has a place in the fashionable troupe, and avails you, the wearer, to really turn it up with a pair like these Amiri Jeans. Ripped, distressed, artfully discolored, these jeans are not for the timid, but in the right circumstance, can really make a statement. All of that detail work is done by hand, hence the price point! Let the jeans do the talking and wear these with a white tee or solid crewneck sweater, simple boots, and an unassuming assortment of jewelry. Or, go all out and wear some chunky designer sneakers and a leather biker jacket over a graphic tee, and steal the spotlight wherever you go.
3. Paige Lennox Slim Fit Grey Jeans
BEST GREY JEAN OPTION
Not everyone has a pair of grey jeans in their closet, and they're actually extraordinarily versatile. They can go with just about any shade of black and can be urban and edgy, or dressed down with sweaters, a simple tee, and some beat up brown boots. They're jeans, but as they're in a color you don't see as often, they pop a lot more than your standard blue or black. This particular pair, in that extraordinarily comfortable Paige fabric, makes for a great addition to your wardrobe and will see a lot of wear this winter. We'd style this particular pair with tan suede chelsea boots, a cream colored waffle shirt or sweater, and a navy or black overcoat.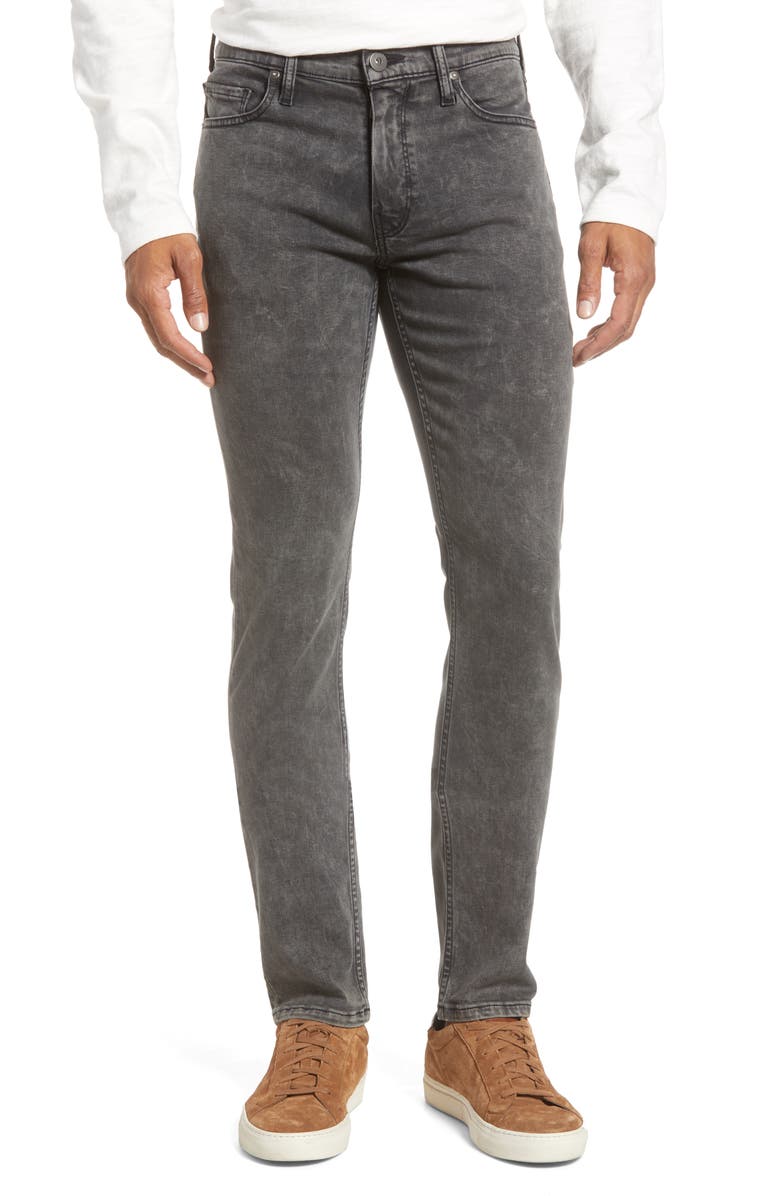 4. APC Selvedge Denim Jeans
BEST SELVEDGE DENIM
APC makes an undeniably incredible pair of selvedge denim jeans. "Selvedge" is a term that comes from "self-edge," which is the finished product based upon a certain type of loom used in the construction of the denim. Frequently, a red line will be seen on the seams to indicate their selvedge status, which means they will be very durable and long lasting. When you first put these on, they will NOT be comfortable. These are a project. They're an experience and will take time. But, when you've broken them in, and they're whiskered, faded, and fit perfectly to your body, you'll have an amazing piece in your wardrobe that will last for years. After the first few wears, they will be comfortable enough to take out into the world. And though they have a polished, crisp look at first, the eventual dye transfer in high-wear areas and break in period will create a unique pair of jeans that you'll love. When new, wear them with a crisp pair of wingtip boots in a medium brown, a lighter blue chambray shirt, and tweed or flannel blazer. When broken in, throw them on with some beat-to-hell Red Wing boots, a band shirt, and a lighter blue jean jacket.
5. Saint Laurent Black Raw Stretch Skinny Fit Denim
MOST BAD-ASS
You need black jeans in your closet. You just do. You're here because you've got some style, and the rock star within you needs to let loose! So when selecting your pair of black jeans, let's splurge and get some of the most iconic black skinny jeans there are. These are cut slim, so size up appropriately, but they do have 2 percent stretch so you'll have some maneuverability which you'll need when doing high kicks during your karaoke rendition of "Love Gun" by Kiss. In true Saint Laurent fashion, these are incredibly well made and cut from premium denim. They're a staple and will look great for years and years to come.
6. Rag & Bone Fit 2 Tonal Rinse Jeans
BEST FOR THE OFFICE
When you need an option for the office, where jeans are a rarity but still appropriate for the odd casual Friday or time around the holidays, these are a sure fire choice. Perhaps you even wear jeans regularly, but still want to keep things polished, or need a good pair for holidays at your new girlfriend's place. This Rag & Bone pair in their slim/straight "fit 2" is a perfect option. Crafted in a monochromatic dark blue with tonal stitching, the slim but not too tight fit –– and straight cut from the knee down –– makes these a chic but reserved option. Wear them with a light blue dress shirt, suede boots like in the picture, and a tweed sport coat for that holiday party with the maybe soon-to-be in-laws on a crisp December day. Or, give them a simple crisp cuff and wear a patterned shirt under an unstructured cotton blazer, a medium brown penny loafer with no socks and your favorite shades for a casual Friday in the spring.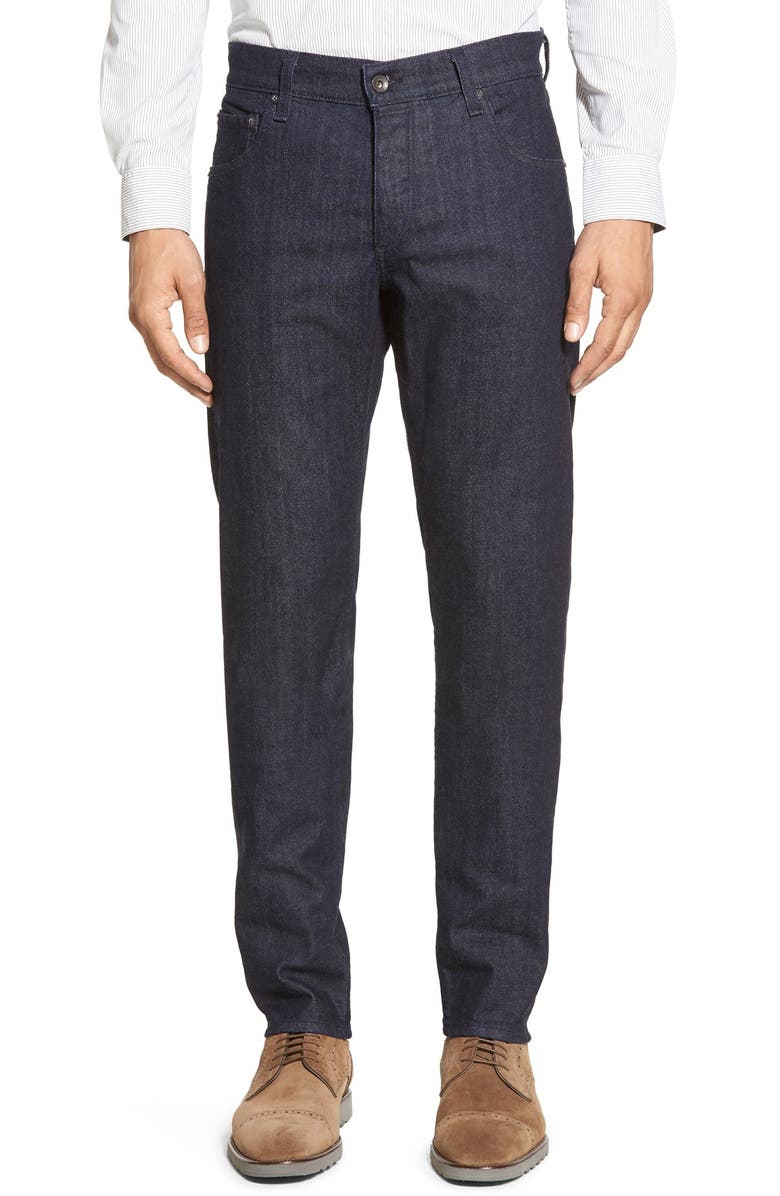 7. Bonobos Richmond Khaki Travel Jeans
BEST TRAVEL OPTION
The "5 pocket" construction of jeans that we're so familiar with, but in a color of your standard run of the mill khakis, makes these a great medium between the two. These are an excellent travel companion, hence Bonobos apt naming, and with the right outfit can be dressed up or down for a myriad of different activities. We suggest Bonobos' "athletic" cut whenever possible, as it provides a great cut after all those squats and spin classes.
8. Frame L'Homme Distressed Skinny Jeans
BEST MIDDLE GROUND
Maybe you want to try out distressed jeans, but don't want the all-out look (or price tag) of the Amiri's earlier in this post. Put your toe in with a basic light blue and comfortably stretchy option from Frame, in their skinny "L'Homme" fit. Keep things casual and wear these with anything from Timberland boots and a hoodie to a more date-night vibe with a blue blazer and chelsea boot. The distressing here is minimal and kept only to the knees, so they have a nod to the fashion forward without going over the top.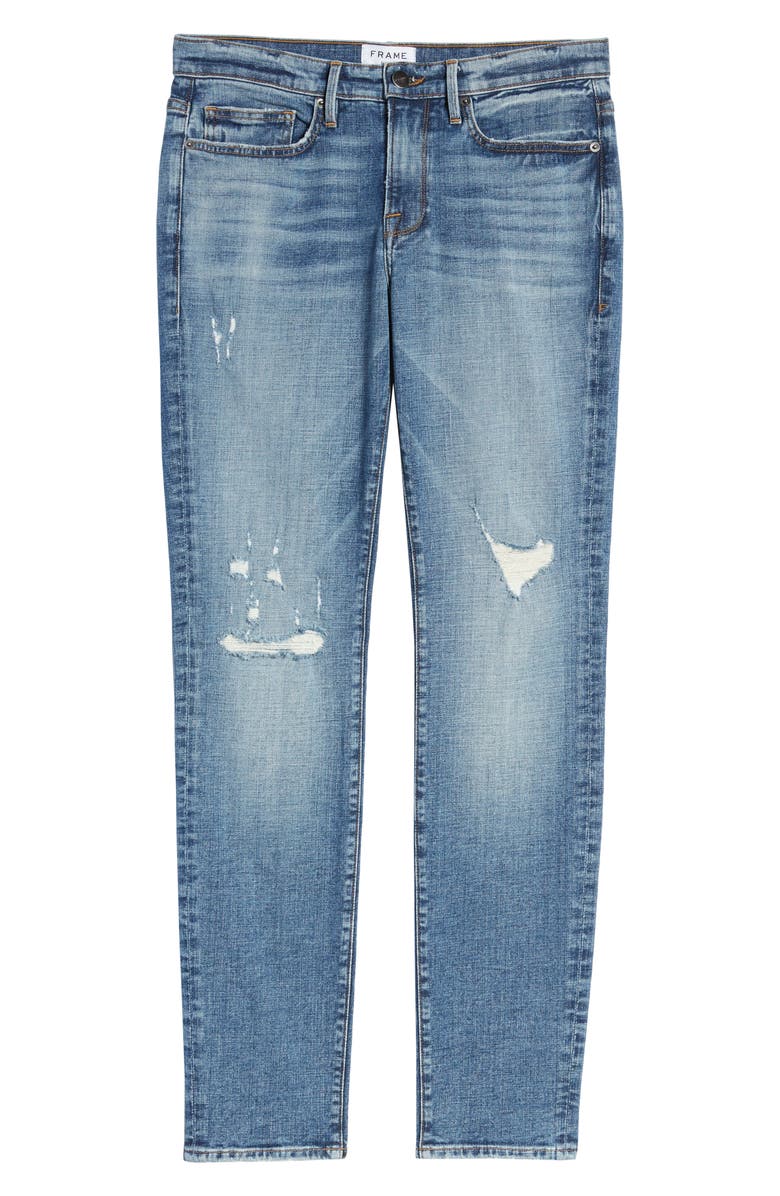 9. Nudie Jeans Grim Tim Faded Black Jeans
BEST BLACK JEANS
For all of the same reasons that the first pair of jeans on this list made best overall, these Nudie Jeans in a nice faded black check just about all the options you'd need for black jeans. The light whiskering and faded look makes them easy to wear with double denim, be it a black or grey tailored jacket, with leather, shearling, or any number of different overcoats. A hint of stretch, a slim but not skinny cut, and premium materials make these a very close second, because black jeans are ever so slightly less wearable than blue. We suggest buying both, you'll get plenty of use out of each of them!