The Best Rain Jackets to Keep You Dry and Stylish Under Any Circumstance
Rain jackets are one of those "necessary" items to have in your closet, a must-have to keep you dry when it sucks outside. Because of their inherent "utility" being the driving force behind owning one, the style aspect of many a rain jacket was completely left behind, and you ended up looking like the little kid in the beginning of IT.
We here at SPY think this is unacceptable! We want you to be dry AND look good. We want an option to wear with a suit, an option for being casual on the weekends, and maybe some options that have options in how you wear them! (See the Aphix parka from newcomer North & Mark)
The degree of rain outside definitely warrants different jackets as well, as some on here are designed for a light drizzle – while other, rubberized versions will keep you dry in the harshest of downpours. Others still have plenty of utility with no rain in sight, so pick one up for each situation.
1. Stutterheim Stockholm Hooded Raincoat
BEST OVERALL
This is definitely the best option to buy to stay 100 percent dry and stylish. The rubberized outer shell means even in an absolute downpour, anything covered by this coat is still going to stay dry. It's solid color, basic design and lack of frills or extravagance make it easy to wear dressed up or down, and the mid-thigh length allows for it to be worn over a suit. Throw on this medium grey over a basic navy suit on a rainy day commute to the office with a pair of brown chukkas reserved for bad weather, or jeans, a crewneck sweatshirt and some bean boots on the weekend.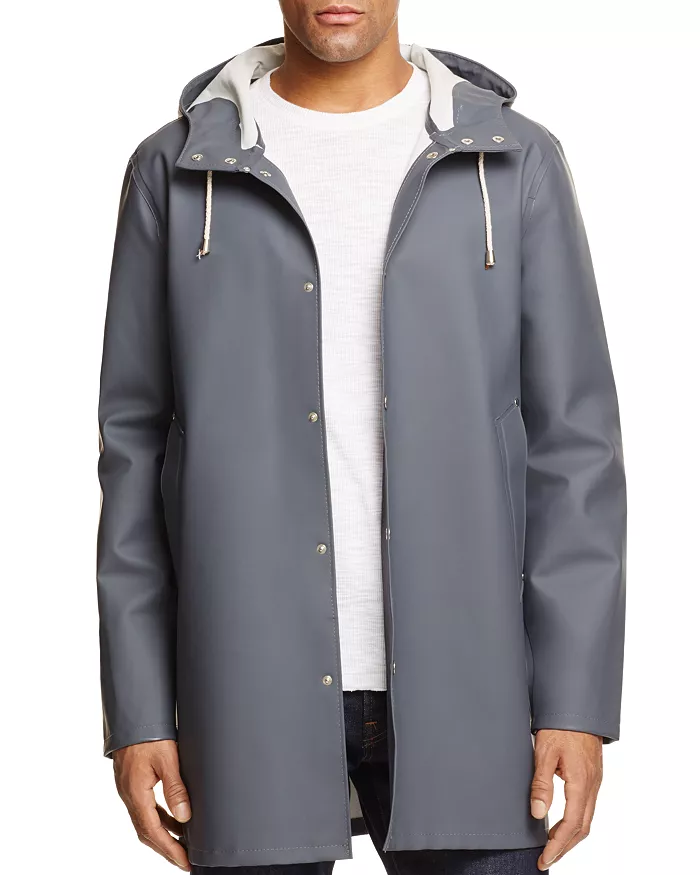 2. Helmut Lang Hooded Nylon Jacket
BEST HIGH FASHION OPTION
Helmut Lang is a chic, stylish brand that has a habit of bending or breaking the rules and still coming out with a great looking wardrobe. This piece has that dystopian chic aesthetic which has become prevalent over the past few years, and will fit in very well for when the weather isn't being agreeable for your plans to look like a million bucks in small bills. Throw this one on with faded black jeans, black cap-toe boots, and a loose-fitting cream knitted sweater on your way to that new trendy bar.
3. North & Mark Aphix 3 in 1 Jacket
BEST FOR WEATHER VARIATION
New brand North & Mark makes clothes that would fit in very well to Blade Runner, or perhaps the upcoming third season of Westworld. It's the future, but it's not that far in the future, so they'll look good today. Technical and good-looking, this particular piece has a city vibe that you could wear with office wear or dress down for a more athleisure look, but likely wouldn't actually look as good with beat up jeans or chinos.
Try this with a simple grey suit with chelsea boots, or with sharp (read: expensive looking) sweats from a Nike or Lululemon with your new training sneakers. It is pricey, but that's because you're getting three jackets in one – which makes this a good option for that Euro trip next fall. Try just the outer shell, the inner down jacket by itself, or the two together for those 42 degree days with that rain/snow mixture!
4. LL Bean Stowaway Rain Jacket
BEST FOR THE OUTDOORS
Do you want to pretend to be outdoorsy? Do you go hiking, but it's really just for the craft beers afterwards? Perhaps there's that cute girl from Bumble who picked Mountains over Beaches, and you need to try and look the part? This option from LL Bean is a can't miss if you've said "yes" to any of the questions above. It's packable, comes in a color that would help the Park Rangers find you after you take a tumble, and actually will keep you quite dry and comfortable. Wear it with chinos, alpine boots and a thermal long sleeve to hike (even if it's just through Brooklyn), or with faded jeans and vans to the corner deli.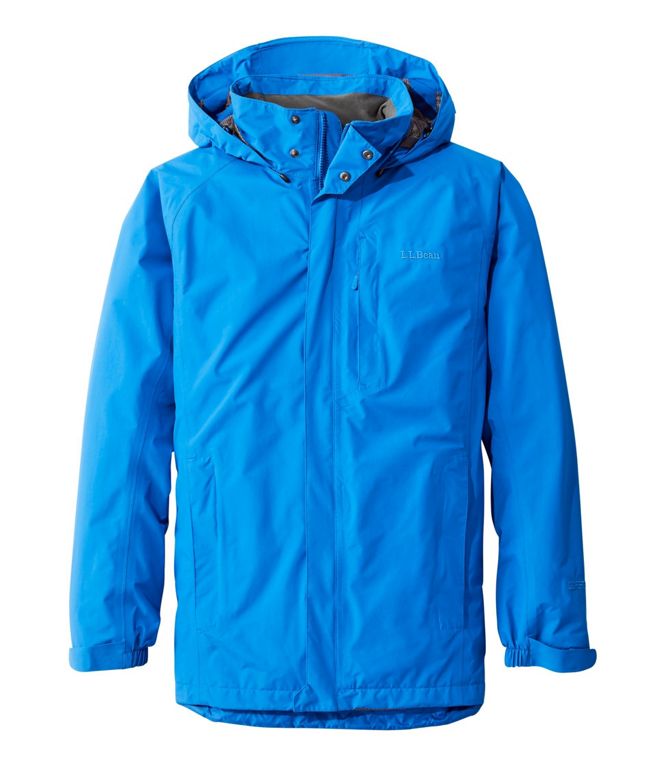 5. Belstaff Trialmaster Waxed Cotton Jacket
MOST BAD-ASS
The waxed cotton construction of this jacket is tough as nails, provides all kinds of protection from the rain, wind, and hypothetical road rash if you fell off your motorcycle, and the classic styling hasn't changed in decades. Throw this one on with selvedge denim, a thick turtleneck sweater, and some wingtip boots for a cool rugged look.
6. Rains Waterproof Hooded Long Jacket
MOST PACKABLE
When traveling, bad weather can really rain on your parade. Sorry, we couldn't help ourselves. So it's best to keep something in your suitcase just in case inclement weather decides to rear its ugly head. This option from Rains will check that box, and rolls nice and tight into the corner of your bag then has great coverage when unfurled. This one is thinner than many options here and would be best for spring showers when it's not as cold, or with other garments layered underneath should it be necessary during your travels. Wear it with whatever you packed, and look at the orange as just a sign that you're going to create your own parade.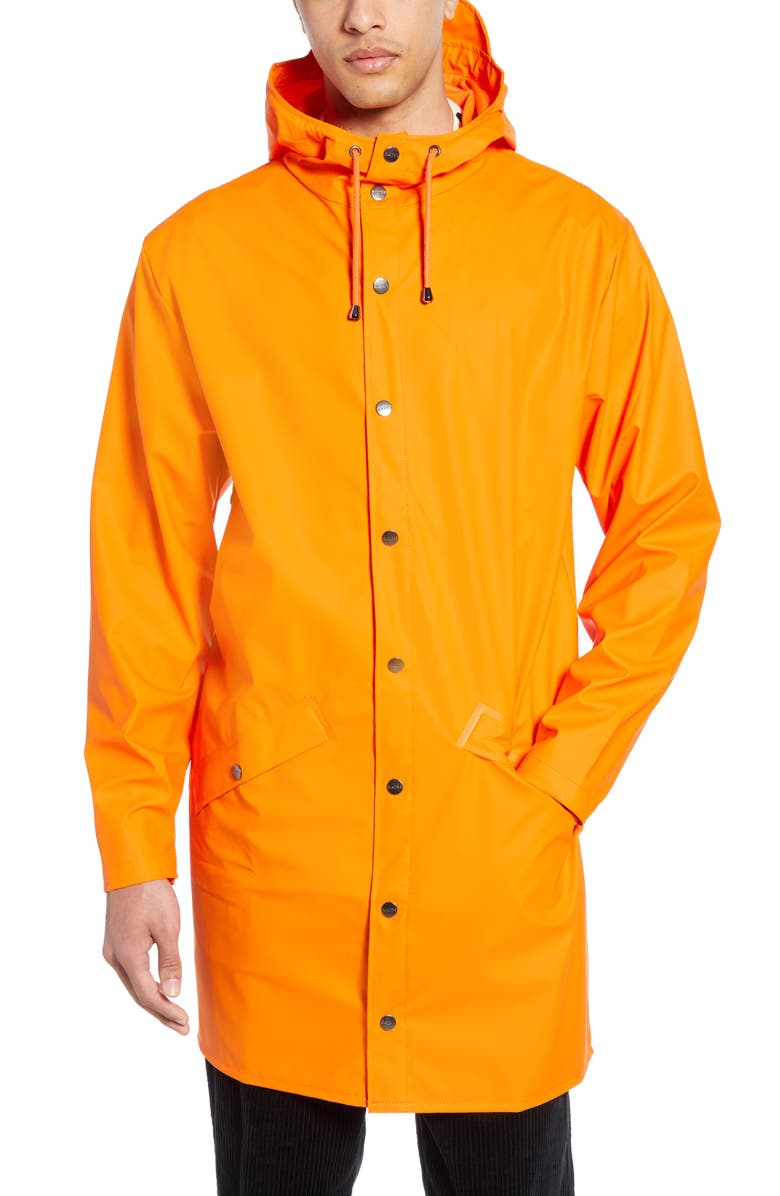 7. Suit Supply Navy Raincoat
BEST FOR THE OFFICE
This simple, chic navy option is a no brainer for day to day office use. Early fall, Early spring, great as a layer when it's not raining, you can find plenty of uses for this well-cut option from reasonably priced brand Suit Supply. To shake things up, wear it with a sharp charcoal double breasted suit, chocolate brown double monk straps, an ice blue shirt and purple tie on Monday, then with jeans, sharp leather sneakers, and a long sleeve knit polo on Friday.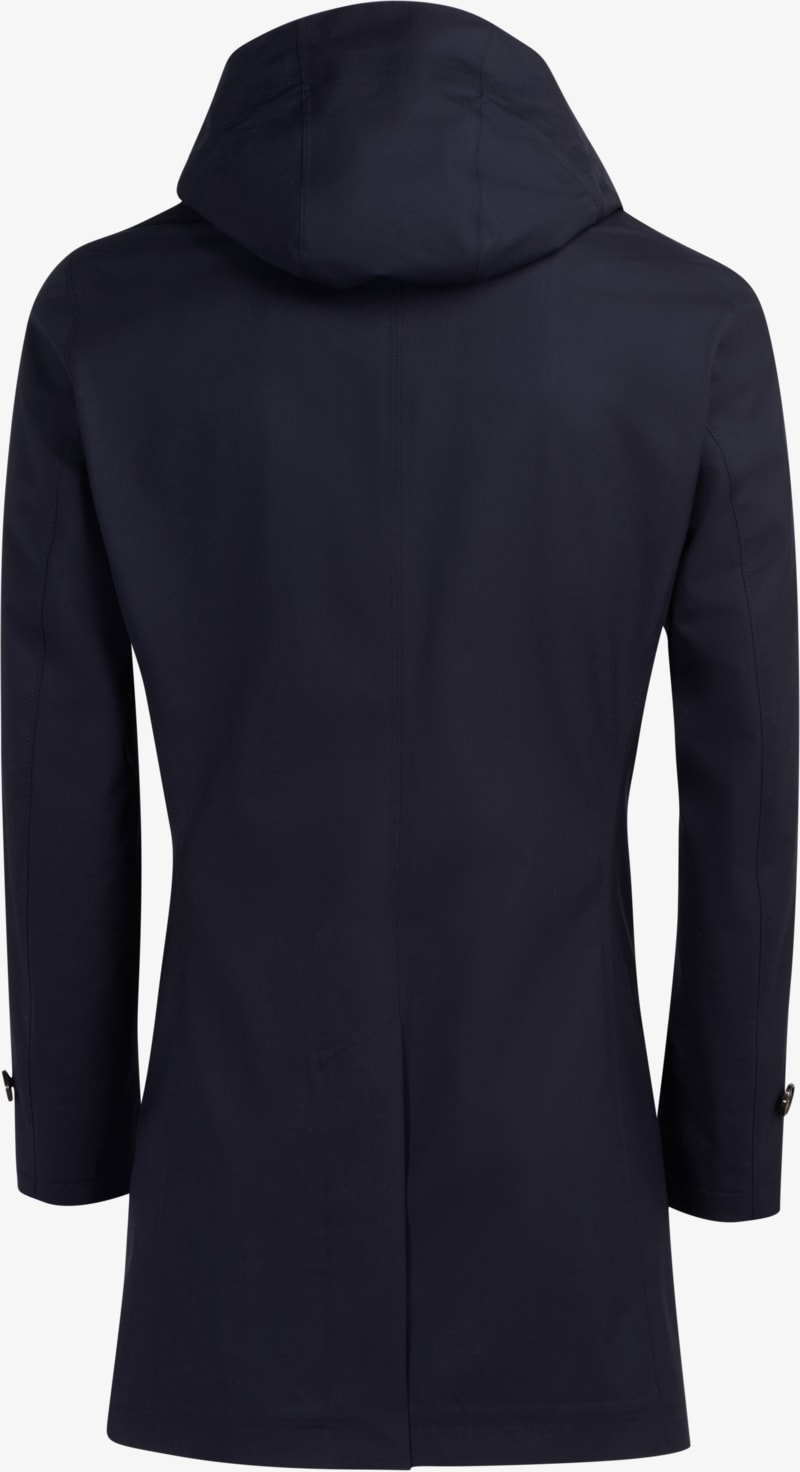 8. Barbour Classic Bedale Waxed Cotton Jacket
BEST PREP STAPLE
Barbour has been a classic prep staple for years. The classic olive coloring and the corduroy collar has been used with jeans, with suits, with business casual and to run around to the corner store. It comes along with a certain look that's not very fashion forward, but it certainly has a classic air to it. If you find yourself frequently airing on the side of classic instead of flashy, this is the pick for you.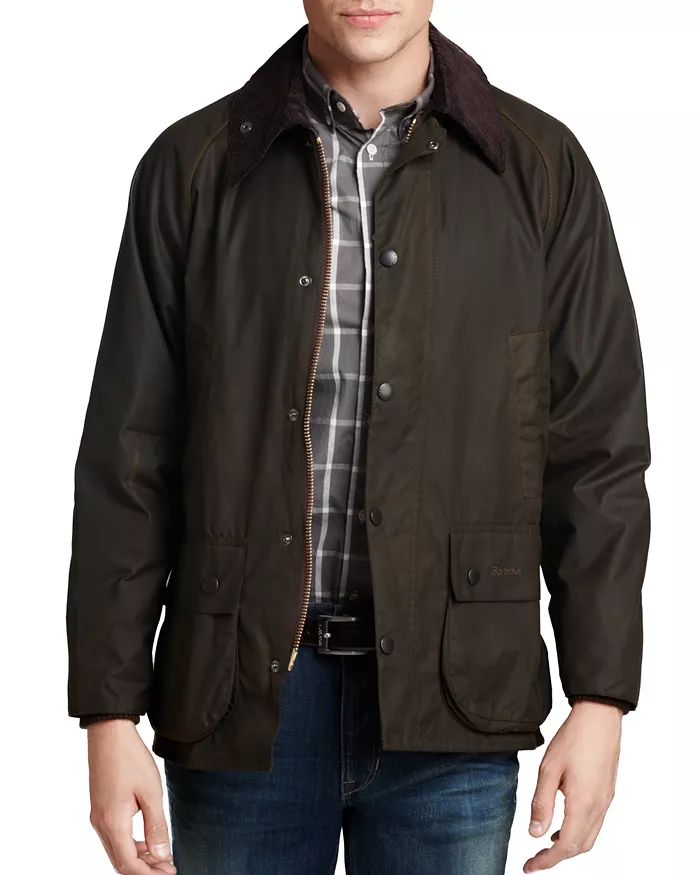 9. J.Crew Omnigod
BEST FOR CITY DWELLERS
A rugged hooded jacket for wear when you're bombing around town, this is a great option for date night, or braving an Urban Jungle. Army inspired styling makes for a fashion forward aesthetic and plenty of utilitarian options, and its black color and chrome detailing make it work with a myriad of city looks. Throw it on with black jeans, a hoodie, and work boots and brave whatever your weekend might send your way.