A Subtle Style Upgrade to an Everyday Jacket, Shearling Coats Are Our Go-To This Winter
Shearling coats are remarkably warm. The sheepskin lining is an incredible defense against the coldest days, and the soft cushiony feel makes them very comfortable (and, frankly, comforting) with every wear. From basic shearling-lined jean or corduroy jackets to more, all-encompassing Rancher-style coats, our list has something for every style and every temperature.
Many of our styles outlined below keep up with the same classic silhouette as the average bomber jacket, but with a bit more style. For this reason, we love to wear them with just a t-shirt when it's not too cold out, or with a warmer sweater when the weather takes a turn. Easily dressed up or down, you'll quickly find (like us) your shearling coat is suddenly your go-to jacket, and the one you reach for anytime you leave the house.
From All Saints and Levis to Nudie Jeans and Todd Synder, here are some of the best shearling coats available right now.
1. All Saints Gunstor Shearling Jacket
BEST OVERALL
When choosing your first shearling coat, it's best to air on the side of simplicity for maximum wearability. We're all for crazy and colorful, but this jacket was made to be worn, so simple is a fantastic place to start. This option from perennial well-priced and stylish purveyor of leather jackets All Saints is a sure bet. Thick, warm, and without any unnecessary frills or additional detailing, this option will look good this winter and for the next 10. Wear this with black jeans and a chambray shirt, or with a simple grey tee like in the model below.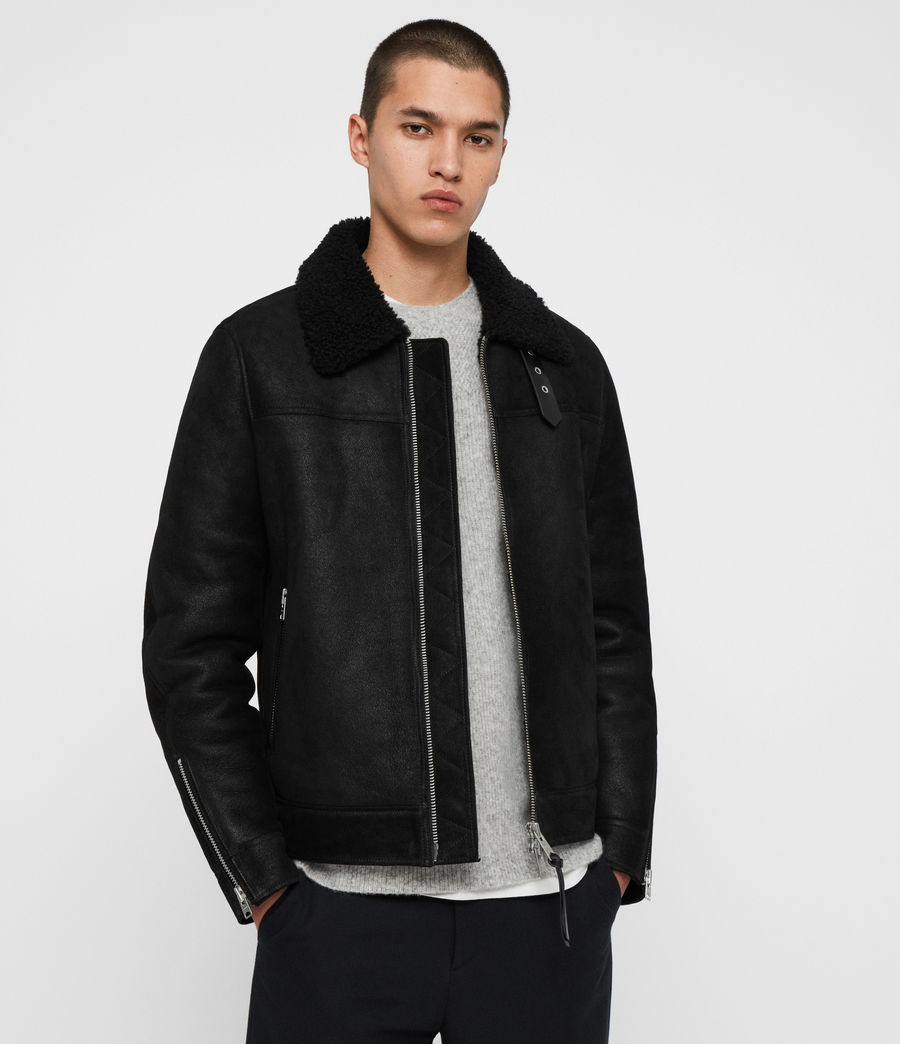 2. Reiss Church 4 Pocket Shearling Jacket
BEST FOR COWBOYS
Shearling coats have also had a lot of use from Ranchers, and this buttery, honey colored version from UK brand Reiss nods to that heritage, without going full bore into it. The four patch pockets lend a utilitarian air, without going too over the top. Tasteful, warm, and very high quality, this will have plenty of utility when not wearing your black on black All Saints. Throw this one on with a navy fisherman sweater, some light wash jeans, and simple brown cap toe boot.
3. Levis Sherpa Jean Jacket
BEST BUDGET
Do you want a shearling jacket, but can't justify the high price point? Not to worry, this light wash jean jacket option from Levis is a great place to get started. The over-bleached look is an interesting visual against the sea of blacks and blues, and the price tag is such that it's easy to buy on a whim. This particular option also works quite well as a layer — throw this on underneath your standard peacoat, put the collar of both of them up, and enjoy a brand new iteration that looks cool and keeps you nice and warm. This option has faux shearling, hence the drastically reduced price tag, but we won't tell if you don't!
4. Todd Snyder Shearling Aviator Jacket
BEST LUXE
Todd Snyder strikes again with his exquisite brand of menswear. This is certainly a luxury option, and is made with high-quality materials and styling. Simple, chic, and obviously well made, the dove grey lends itself to a myriad of mixing and matching color pallets, and a range from casual to more formal events. This is the option worn around Aspen and the like, but you can wear it in your own neighborhood and bring along a touch of luxury.
5. Reiss Rivet Wool Blend Shearling Collar Bomber Jacket
BEST CLASSY OPTION
Many of the options in this list are rugged and casual, which adds to their allure — and can certainly be considered one of their many benefits. Of course, there may be times when you still want to be warm, but need to dress things up a bit. In comes this second option from Reiss, which has a clean look and shearling collar, while leaving the rest of the shearling lining behind. The medium grey has extraordinary versatility, and the wool construction will still keep you cozy on a blustery day. Wear this option with chinos, a light blue oxford cloth shirt, olive green sweater, desert boots and a smile!
6. Schott Exclusive Brown Shearling Coat
BEST RANCHER
Brash, big, wild and crazy reigns supreme for late 2010's, and why not enjoy a bit of it yourself? This incredible option from classic leather purveyor Schott is a great way to keep yourself warm in any weather, and get looks wherever you go. The styling of this one is in the old school "Marlboro Man" vibes, sparking reminiscing thoughts of horseback riding through the snow. While this iteration is more fashion forward, it is undeniably effective against the cold and will last for years and years.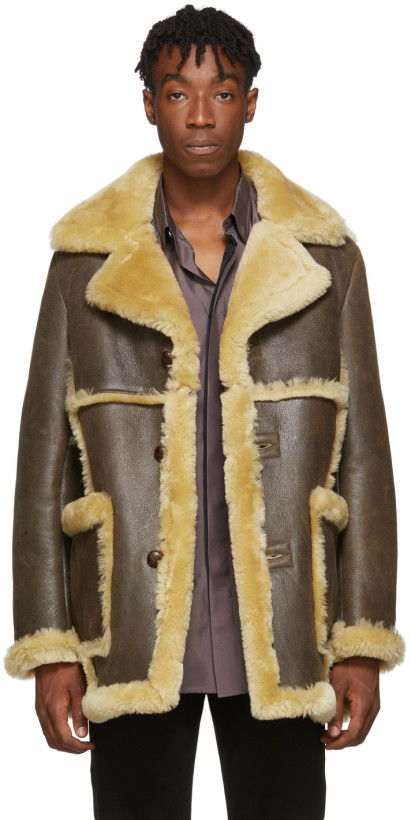 7. CW Malls Black Sheepskin Shearling Coat
BEST LONG COAT
This option from CW Malls is the "light" version of the full-on Schott Rancher above. Still, it has good coverage down your legs, but the subtle black and grey coloring makes it much less of a statement, with (almost) all of the same warmth. CW Malls also has a service where you can get each of their coats made custom for a relatively nominal fee, but it's likely that one of the sizes they have already will do you just fine. Wear this one with a charcoal flannel suit on a bitter cold day, or with Timberland boots and a hoodie on the weekends.
8. Nudie Jeans Lenny Plaid Jacket
BEST PLAID
The Buffalo plaid jacket has had a place in East Coast winters ever since a certain portly Brooklyn rapper stepped out with the red and black lumberjack and the hat to match. A flex for sure, but still very wearable and definitely good looking, this option from Nudie Jeans has a pile lining as opposed to genuine Shearling. This keeps the price more manageable, but still keeps you nice and warm thanks to the wool outer construction. Pick this one up for a cool eye-catching weekend look.