Topshop's See-Through Plastic Pants Are The New Mud Jeans
* Topshop introduces completely see-through plastic "jeans"
* Adds to trend of buzzworthy product launches this month
* Social media has already generated a storm of reviews of the jean
There hasn't been a dull moment during the past two weeks when it comes to utterly bizarre trends on the market. Between Starbucks' short-lived Unicorn Frappuccino and the now-infamous mud jeans for sale at Nordstrom, social media has had no shortage of trending content to discuss.
Now, Topshop has added to the interesting mix of out of the box apparel, debuting their new "out-of-ordinary" Clear Plastic Moto Jeans. The futuristic clear pants adhere to Topshop's classic moto jeans design, featuring a straight leg, mid-rise and a cropped inseam that hits just above the ankle. But that's where the similarities comes to a rather abrupt end. These "jeans," are composed of 100% Polyurethane, making them completely see-through—not exactly your average pair of go-to pants.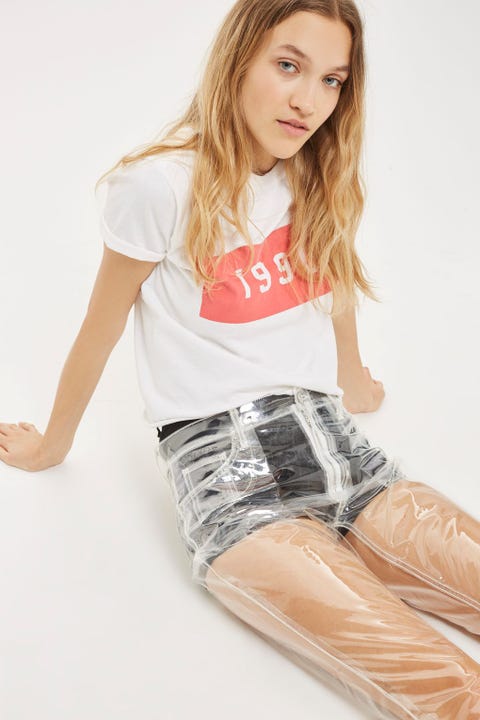 Topshop's description of the pants promises to earn those wearing them attention, positing that they're "guaranteed to get people talking." Well, it appears that the jeans have done just that, conjuring up quite a buzz on social media today.
But the tried and true, "any PR is good PR" phrase, may just be put to the test with their newest release, with many taking to Twitter and Instagram to criticize the jeans and Topshop's design judgement as a whole.
Vinyl, PVC and patent leather textile fabrication were major trends on the Spring/Summer 2017 runways, but the unconventional fabric was materialized mostly in shiny patent coats, shoes and accessories. Plastic has been a off-and-on staple in avant garde ready-to-wear fashion since the 80s, with fashion houses like Maison Martin Margiela and Gareth Pugh incorporating the material in their collections. But in the contemporary and fast fashion sectors, it's a rare sighting. At just $100, these affordable, space-age pants are definitely awe-inducing, but surprisingly, we aren't totally repulsed. In fact, we might actually consider wearing them.