If you let your garden go during winter but are ready to get back on track for spring and summer, then you've come to the right place. Spring and summer offer ideal weather for outdoor entertainment, al fresco dining and patio parties. Get inspired to get your garden back on track with these 10 photos that are sure to inspire you to up your gardening game.
1.
We love how One King's Lane styles and decorates their outdoor spaces, incorporating traditional indoor pieces and using them outside for an unexpected and unique look. The reflective bronze side table and juxtaposing white lawn chair lend the space a modern touch. One King Lane's interior (and exterior) design skills never cease to amaze us.
2.
Don't have a yard or space to garden? You can still achieve the look of the outdoors inside a smaller space. Thanks to the innovative interior designers and decorators at Terrain, you have a variety of ways to bring the charm of an outdoor garden into your home. This adorable plant rack blends antique charm with industrial minimalism for a look that will match a variety of different indoor decor schemes, whether in a tiny apartment or sun-room.
3.
Spring is in full bloom, and now is the best time to reap results from gardening and caring for your favorite flowers. Dahlias are one of the many flowers that thrive in spring, according to Terrain. Just a few plants will provide seemingly endless bouquets for the house.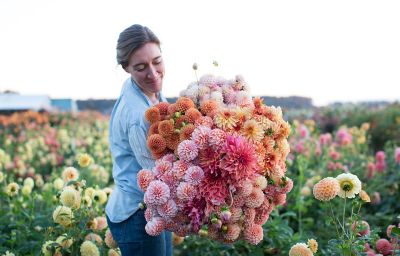 4.
Another option for apartment owners or those without a yard (hello New Yorkers) is adding a decorative plant that doesn't requite ample sunlight. Terrain once again offers a chic option for bringing garden goals indoors with this mid-century modern glass bulb stand. Cacti and succulents are great indoor plants — and good options for beginner gardeners — as they require little attention and sunlight.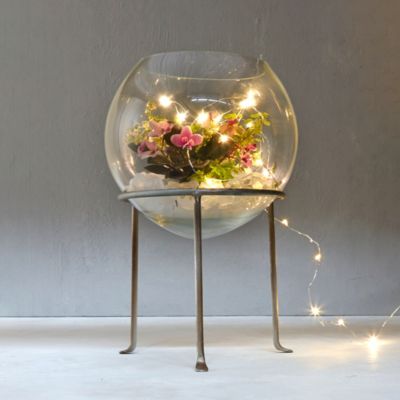 5.
While not technically a garden, this dotted mid-century glass house sure did get us inspired to decorate our own backyard spaces. Japanese conceptual artist Yayoi Kusama applied her signature red dots to this glasshouse by iconic mid-century architect, Phillip Johnson, captured by one of our favorite home and garden retailers, 2Modern. While re-creating this look isn't feasible for your own garden, thankfully, 2Modern has plenty of outdoor decor and furniture pieces to achieve a similar, contemporary meets mid-century aesthetic.
6.
One King Lane's ability to seamlessly blend the lines of outdoor and indoor furniture and decor demonstrated once again. We love how this versatile black white rug would look appropriate both on your patio or in your living room. The simple look will work for a variety of different backyard spaces and decor style preferences.
7.
Another garden-surrounded glass house giving us serious garden goals, courtesy of 2Modern. While not a traditional garden by any means, this creative approach to unifying the home and outdoors has been a source of inspiration for years. The lavender bush offers its beauty and privacy to the home's inhabitants while the palm trees and plants give balance to the stark aesthetic of glass, giving it a more homely feel. We suspect Frank Lloyd Wright would approve of well, everything in this photo — and we sure do too.
8.
This lovely English cottage located in Dorset, England features a welcoming garden in the front yard, framing the grass pathway to the home's front door. Featured on Terrain, this enviable front garden conveys a classic, cottage-chic style — well maintained, but not overly manicured. The flanking stairs give the garden an aesthetic balance, adding a structural element. Potted plants and herbs add an elemental appeal to your garden, incorporating industrial elements into the mix for added character.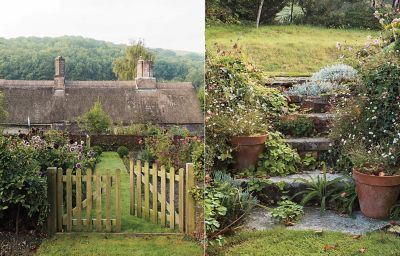 9.
This exquisite garden dining area is encircled by a shabby-chic greenhouse covering. We love this take on a garden party setting that looks festive but not flashy. The white dining table is balanced with the white flowers and green plants surrounding it. The gold centerpiece ties in the whole look of the outdoor space. One pro-tip that One King's Lane suggests for outdoor entertaining is investing in a couple of high-grade lanterns, which result in the coveted mood lighting that can often be tricky to achieve outside.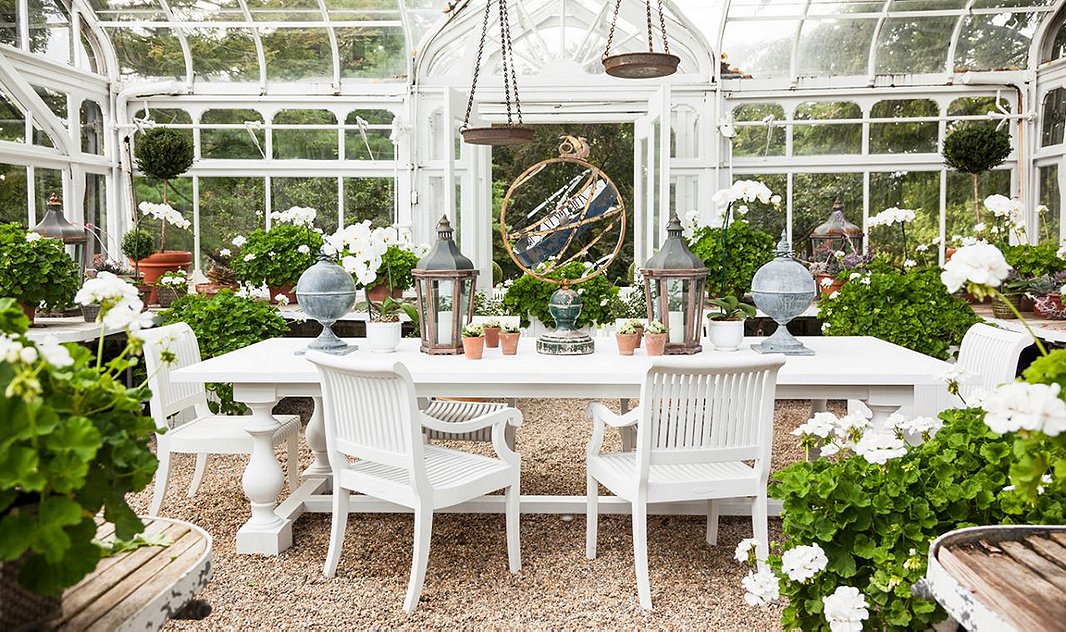 10.
This South Carolina garden is as lush and green as one could imagine. Owned by CEO of boutique home and garden retailer, Serena and Lily, this greco-roman garden blends stylistic traits from a variety of architecture eras, while still maintaining its southern charm. The classical female sculpture standing in the center gives this garden an opulent look, with an antique quality. The geometrically defined path feels grand, almost presented like an outdoor museum. While this may or may not be too grand for your own backyard, the admirable dedication the owners have paid to landscaping (and maintenance, presumably) is impressive enough alone.
If you buy something because we told you about it, we may receive compensation from retail partners.