* Book your room now for the Film Festival or a summer getaway
* Each 5-star rated hotel offers luxury amenities
* Celeb-approved spots in the South of France
The annual Cannes Film Festival takes place May 17-28, celebrating its 70th anniversary this year. The renowned film festival will take place at the Palais des Festivals and will be hosted this year by Italian actress Monica Bellucci, with thousands of celebrities and esteemed industry insiders flying into the resort town for the event.
But Cannes isn't only known for being the host to one of the most respected film festivals in the world — it's also known for its stunning coastlines set against the French Rivera, making it an alluring destination for tourists, whether you're a celebrity or not. Whatever your reason for travelling to Cannes, we've rounded up the top three hotels you'll want to check into during your visit.
1. Hôtel Barrière Le Majestic, Cannes
This upscale, beachfront hotel is located in the center of old Cannes, in walking distance to some of the best attractions the city has to offer. If you're attending the film festival, Hotel Barriere is only a two minute walk from the festival's venue and congress hall, Palais de Festivals.
Located on a private beach, Hôtel Barrière Le Majestic offers luxury hospitality and modern convenience to guests, whether on vacation or travelling for business. The hotel has become known for its stunning design-focused rooms, often complete with panoramic views looking out to the Mediterranean sea and furnished with one-of-a kind decor. One of hotel's most coveted suites is designed by and dedicated to Parisian fashion designer, Christian Dior. The couture suite features luxe furnishings reflective of the designer's signature style and a lavish vanity area topped off with some of the designer's most loved fragrances.
This hotel doesn't skimp on luxury amenities in their other rooms and facilities either. With a wide arrays of in-house entertainment, including a full-service spa, casino, a nightclub and three restaurants, you may be tempted to stay at the hotel the entire time. Other perks include a free children's club, a 24-hour fitness center and free WiFi. This luxury hotel has hosted some of Hollywood's biggest heavyweights over the years including Robert De Niro and Sylvester Stallone.
2. Five Seas Hotel Cannes, Cannes
This 5-star boutique hotel is another favorite of celebrities travelling to Cannes — and for good reason. Also located in close proximity to the film festival's venue — and just 100 meters away from La Croisette beaches — this hotel offers its guests a number of upscale amenities in addition to its central location.
The hotel is home to the Michelin-starred restaurant, Sea Sens, located on the fifth floor. This brasserie-style restaurant offers guests not only some of the best cuisine in Cannes, but also one of the best views of the city from its terrace-level dining space. Additionally, the intimate 45-room hotel also has an expansive, outdoor infinity pool located on the rooftop terrace with poolside service and a full spa. The hotel has reportedly become a favorite of its high profile clientele thanks to its discretion and confidentiality.
3. The Intercontinental Carlton Cannes
This posh hotel is located on the largest private beach in The Bay of Cannes on the prestigious Boulevard de la Croisette, in walking distance to some of the city's best destinations for dining, nightlife, and sightseeing. This hotel is only a 14-minute walk from the infamous Musée Picasso and the Promenade La Croisette, allowing guests to enjoy the outdoors and absorb the culture as they stroll.
Built in 1911, the Intercontinental Carlton features a stunning facade, with classical architectural styles and romantic domed structures, for a nostalgic feel. But despite the old-world charm, this resort is also updated with modern details and amenities to help any guest feel at home during their stay.
With two on-site restaurants and a luxurious spa, the hotel offers its guests plenty of entertainment options on site. If you should want to explore outside, private boating tours are available, allowing you to sail the Mediterranean sea like a star. The hotel's history is filled with a celebrity-rich past that has continued to present day, making this the go-to for celebrities when staying Cannes. The Intercontinental Carlton served as the location for Alfred Hitchcock's film, To Catch a Thief, and made an appearance in Elton John's music video for the song, "I'm Still Standing," in 1983. Hollywood regulars of the hotel include Sean Penn, Gwyneth Paltrow, Quentin Tarantino and Gwen Stefani.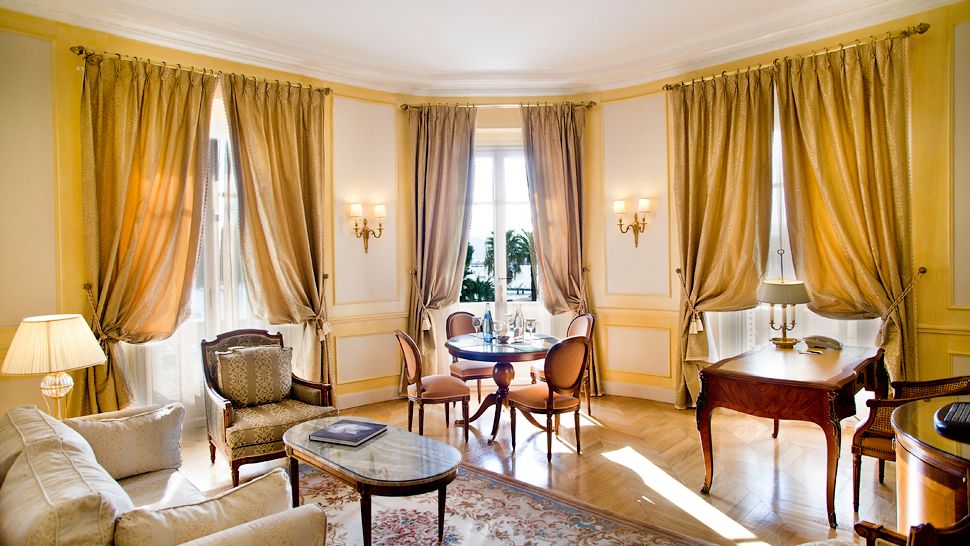 If you buy something because we told you about it, we may receive compensation from retail partners.