* UPF ratings measure amount of UV radiation a fabric is able to block
* Hats are great way to add extra protection from the sun
* It is recommended to use both SPF sunscreens and UPF fabric when possible
Exposure to ultraviolet rays from the sun can not only accelerate the skin's natural aging process, but can also put you at increased risk for developing skin cancer.
While wearing an SPF sunblock on the skin and exposed parts of the body should already be part of your everyday skincare routine, there are extra steps you can take to protect yourself.
UPF—Ultraviolet Protection Factor—is the equivalent to what SPF is to sunblock, except applied to clothing and accessories. UPF is rated by evaluating how much the fabric in question is able to block the UV radiation from the sun. For instance, if an item of clothing has a UPF rating of 30+, this means that only 1/30 of the radiation from rays will get through it. For reference, the SPF rating is judged based on the time in which redness will occur during sun exposure. If you're wearing a sunscreen with the SPF 30, this means that you should in theory, be able to stay in the sun 30 times longer without burning than if you weren't wearing sunscreen at all.
The face is one of the areas most susceptible to the sun's harmful rays, and is the site on which most skincare cases are found. Hence, hats are a great way to add protection to your face when you know you'll be in the sun. Sun, sweat and ocean/pool water can all greatly reduce the efficacy of SPF facial and body products, even when re-applied as directed.
Fortunately, adding a hat will help block the sun and give you extra protection when your sunscreen fades or wear off. Here are six of our favorite hats with a UPF of 50+ .
1. Wide Brim Hat
Coolibar is a pioneer in offering fashionable, sun-protective apparel and accessories. This stylish wide-brim straw hat offers maximum UV protection with crown lining and a 4-inch brim. This packable hat is designed to deconstruct, making it a great option for traveling or long beach days. Always on the go? Leave this hat in your car for impromptu outdoor excursions.
2. Sunday Afternoons Eclipse Hat
If you're looking for a sun-protective hat in a causal, baseball cap design, the Eclipse hat is your best bet for hot summer months and outdoor sports. In addition to its UV protection — even in the lighter shades — it also helps keep your head cool with its flip-up mesh side panels and its interior sweat-wicking band. This unisex style is great for playing golf or taking the kids to an amusement park.
3. "Braid Dame" Hat
This fashionable hat will protect you from heat and harm and thanks to the brim, will keep your makeup in place during summer events and parties. With a UPF rating of 50+, this woven hat will look lovely worn with swimsuits on the beach or paired with a summery dress for a 4th of July party. Have color treated hair? UV rays are also associated with fading hair color, so protect your highlights with a wide-brimmed style for maximum shielding.
4. Wallaroo Men's Cameron Hat
This lightweight fedora hat offers those who love the outdoors a functional yet stylish head-wear option for warm weather days. With a rugged leather buckle around the crown, this fedora looks great for casual outings as well as summer weddings. The Cameron hat comes with an inner adjustable band that allows for a customized fit so you won't have to worry about windy days.
5. Sunshade Visor Hat
If you're looking for a more athletic sun-protective cap that works for casual outings and outdoor workouts, look no further. This stylish, two-toned visor hat features a straw brim with on-trend chambray fabrication on the crown. With a ponytail holder on the back, you'll be able to protect your skin and scalp while on an outdoor run, hikes, or running errands. The crown is fully lined and features a sweat-wicking sports band to keep you cool and dry.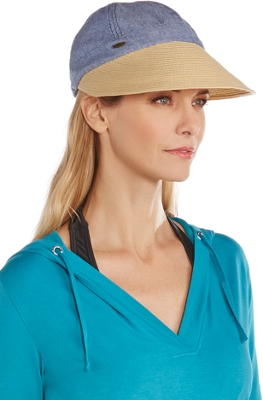 6. Men's
Crushable Ventilated Hat
This wide-brimmed hat offers both utility and style with its ventilated crown and universally flattering silhouette. The chin cord adds a touch of rugged detail to the hat, while also ensuring it stays in place even while hiking or bicycling. The flexible and lightweight cotton and polyester fabrication allows for maximum breathability and easy portability for travelling abroad or camping trips.
If you buy something because we told you about it, we may receive compensation from retail partners.