Looking for a super cool party prop for bachelor or bachelorette parties, birthday celebrations, New Year's Eve gatherings, Valentine's Day and all other special celebrations? A money gun is just the thing you need. And, yes, we're talking about those little guns that shoot dollar, dollar bills into the air.
Originally created to make it rain at gentlemen's clubs, money guns or money shooters, as they're also commonly referred to, have become a more mainstream tool for other Instagrammable moments and occasions. Back in 2017, Supreme famously released a red money gun branded with its logo along with dollar bills featuring the Supreme tag. You may have also seen money guns used in music videos, TV shows, Youtube videos and even Burger King commercials in recent years.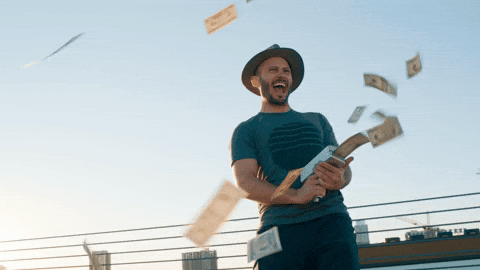 Super fun and easy to use, you can fill them with real money, fake money or any type of dollar bill-sized paper. Simply pull the trigger and watch them shoot into the air one by one. Personalize the experience by having customized faux dollars made to commemorate your special day. You'll be able to find plenty of retailers on Etsy like BeengBong and iPartyBucks that specialize in creating dollar-like fake bills for money guns to celebrate birthdays, weddings, and more, complete with the guest(s) of honor's image, name, etc. You can even have an age, milestone or anniversary year printed as the denomination on the fake dollar bills. The possibilities are endless.
To help you get the party started, we've created a quick roundup of the best money guns for sale on the internet. With this on hand, you're sure to be the life of any party.
1. Wowok Gold Money Guns Shooter
This golden cash dispenser will certainly be an instant hit at any event. It can hold and shoot out over 100 dollar bills at a time. The strong motor ensures that the expel rapidly and without hesitation. This gun is easy to fill and comes with DIY decals that allow you to customize the outside of the shooter as desired.
2. UO Chrome Cash Dispenser
Urban Outfitters has always been ahead of the game when it comes to novelty items so there's no surprise that they would offer their own money gun. This chrome shooter comes with the phrase "make it rain" on the side and includes its own stack of cash.
ON SALE
3. LUYE Money Gun
This pink money shooter is the perfect addition to any bachelorette party, Galentine's celebration, birthday party, and more. It comes with 100 paper bills and needs This motor design 3 AA batteries (not included) to operate.
4. Wowok Transparent Money Gun Shooter
You'll be able to view just how much money is left in the reservoir of your shooter with this transparent money gun. Like the other Wowok option on this list, this money gun comes with DIY decals that you can stick on the outside for customization. This style takes 4 AA batteries and top loads for easy use.
5. LEOKKARR
Cash Money Gun
Looking for a dupe of the Supreme money gun, one that doesn't cost $600? Designed in the fashion of the Supreme Cash Cannon money gun, this red money shooter dispenses 100 bills at a time. It has a strong motor, propelling up to 15 bills per second up to 6-8 feet.
The Best Balloons for Taking Your Celebration to the Next Level