Today is National Beer Day, giving avid brew lovers yet another excuse to crack open a bottle or can in celebration. In honor of the "holiday," we have compiled a list of the top breweries in America that you need to try for Summer. Whether you love a hoppy IPA, heavy stout, or prefer to go the simple route with an all-American lager, these breweries have something special for everyone. We'll drink to that!
Modern Times (San Diego, CA)
Modern Times Brewery is one of the newest additions to San Diego's ubiquitous craft beer presence. The Point Loma-based brewery just turned three and recently opened up an off-site tasting room in San Diego's hip North Park neighborhood, where visitors can taste experimental "pilot editions," of their brews. Dedicated to creating "aroma-driven" and "sessionish" beers, this young brewery's future seems promising. Our favorite beer pick from their permanent selection is their "Fortune Islands," a light beer that blends the nutty flavor of a traditional lager, offset with citrusy hops of a California IPA.
Six Points Brewery (Brooklyn, NY)
Brooklyn brewery Six Points is an OG in the craft beer industry, and they certainly take their craft seriously. The brewery opened in 2004 in Brooklyn's Red Hook neighborhood, years before the craft beer phenomenon took off. The brewery uses the cheeky slogan "Beer is Culture," playing on the social/cultural aspects of brewing and drinking beer and the fact that beer's main ingredient, yeast, is also a culture. Their top-selling beers include "Resin," a full-bodied double IPA and "Sweet Action," a creamy ale with a malty-sweet flavor.
Ninkasi Brewery (Eugene, OR)
The Eugene, OR craft beer scene is a close rival to that of state's largest city, Portland. Ninkasi opened in 2006 in Eugene's Whiteaker neighborhood, known for its booming art scene. Over a decade later, Ninkasi has opened a tasting room and offers several programs that seek to integrate visual art and culture with the beer industry. Dedicated to community outreach and sustainability, Ninkasi even has an Artist in Residence program, in which local artists are invited to contribute to the marketing and creative direction at the brewery's headquarters. In 2016, Ninkasi was named the 33rd largest craft brewery in America by The Brewer's Association, and we can see why. While this brewery is known for their Oregon lagers and unique IPAs, their signature Vanilla Stout is a must-try. The creamy texture is complemented with just the right amount of froth for a smooth sip each time. The flavor profile is rich and warm, with a chocolate-molasses taste, garnered with a hint of vanilla.
Great Divide (Denver, CO)
Great Divide Brewery was a pioneer in the booming craft scene in Denver, CO. Great Divide opened in 1994 and since its inception, the company has been dedicated to giving back to the community and prioritizing environmental best practices in all aspects of the business's platform. In addition to their brewery and tasting room locations in Denver, the company is also committed to event sponsorship, as a way of integrating with the community and supporting local business and events. Many Great Divide fans have even begun to refer to the brewery as "the adult ice cream truck." Our favorite brew at the moment, is their Grapefruit Ale, part of the their seasonal collection of brews. "The Roadie," offers a unique spin on the trendy grapefruit flavored beer trend, with a more sophisticated flavor profile that includes notes of grapefruit puree and golden wheat.
5. 3 Sheeps Brewery (Sheboygan, WI)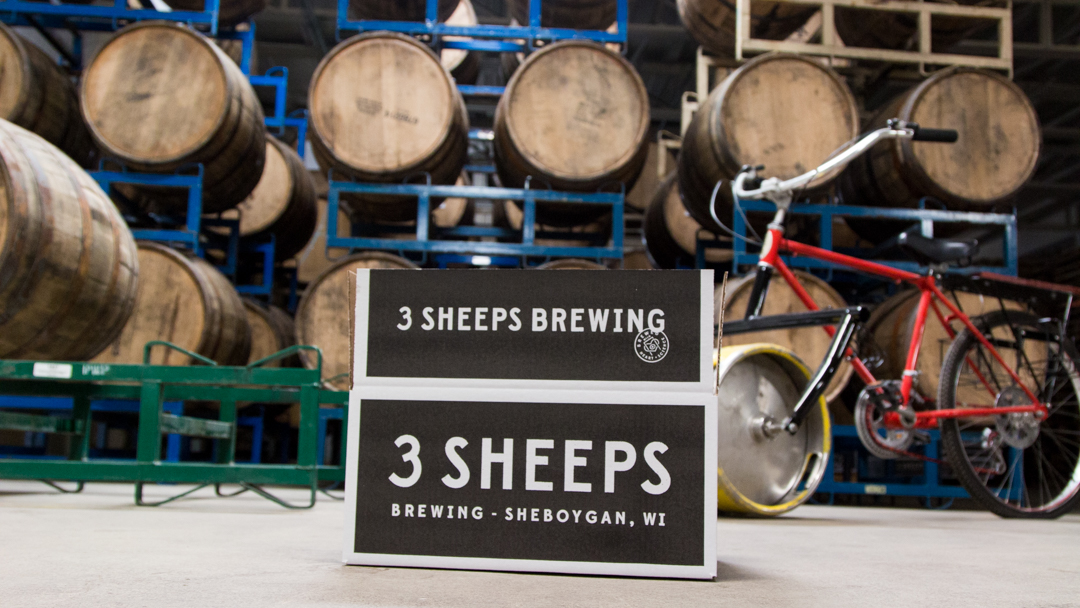 Wisconsin is a state known for their beer industry, with industry giants like Pabst Blue Ribbon and Miller headquartered in the state. But gone are the days where mainstream corporations dominated the beer scene. Now, craft breweries like 3 Sheep are changing the beer game with their innovative spin on traditional brewing. 3 Sheep is all about taking risks and adding unlikely components and flavor to their brews. For instance, their best-selling stout called "Paid Time Off," includes flavors of walnuts, cacao nibs and toasted coconut. 3 Sheep stands out from other breweries, craft or not, because of their innovation, experimentation and gourmet approach to brewing beer. Our favorite beer of the moment is their limited release, dubbed the "Cuvee Blend 17." This beer is composed of ale, then soaked in red wine and bourbon for 12 months giving the flavor an impeccable complexity.